It's finally furniture installation day! This is the space you have been dreaming about and planning for months… and it's about to come together. You wait by the door, eager for your furnishings to arrive so you can start arranging them. But wait…
I know installation day sounds beautiful and fun, but here's a well-kept secret in the interior design world — it is actually hard work. And it's messy.
But you know me. I wouldn't let you embark on your glorious installation day without the proper knowledge and preparation. Here's what a decade of installation days has taught me to expect, to bring along, and to do…
Quick Recap: Plan Your Design Year Series
January: View month-by-month design plan
February: Declutter your spaces (and get our guide to decluttering with conviction!)
March: Define your project's scope and strategy
April: Create your design concept
May: How to create a room layout
June: How to select furniture and get quotes
July: What you need to know about ordering furnishings
September: What really happens on furniture installation day
Journey Home's Installation Day Kit
When you read what's in our installation day kit, I think you will see that there's quite a bit more to installing furniture than meets the eye. Here is the Journey Home team install day kit has, and we recommend all of it for anyone trying this themselves…
felt stoppers (for chair feet)
silicon stoppers (should a door be touching furniture)
screw driver
scissors
Stanley knife (DO NOT USE THIS TO OPEN FURNITURE BOXES YOU COULD SCRATCH YOUR FURNITURE)
rags (for cleaning, I stick to a water spray, damp cloth and rags)
vacuum
steamer for window treatments
furniture colour markers
furniture polish
large garbage bags
Allen key set
needle and thread
leveler
light bulbs (find out what you need for your new lamps and light fittings ahead of time)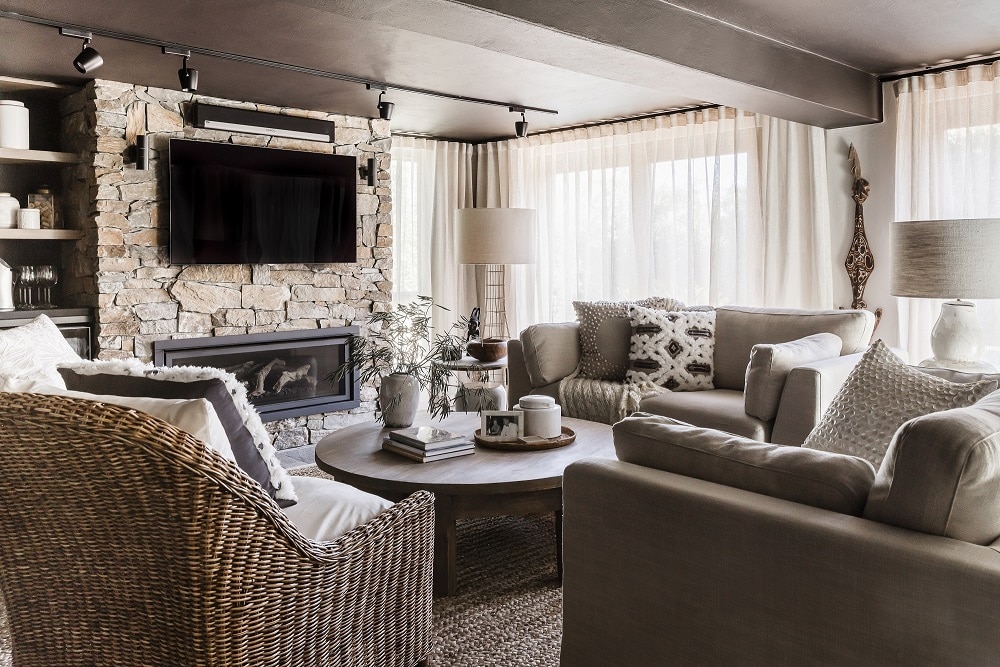 Yes, installing a room like this one uses the whole kit! (From the Deakin Revival)
What to Expect from Installation Day
If, by chance, you are installing a complete room that has quite a few items, be prepared for something to go wrong. You could have done everything right up to this point (bravo), and yet you will still experience hiccoughs in the process — that is simply the nature of it.
Here are 4 situations to be prepared for…
1. A Mountain of Packaging
If you are installing a full room, be warned, there is a mountain of packaging coming your way. I know it doesn't sound environmentally friendly, but if the alternative is receiving broken lamps and ginger jars or damaged furniture, well, I've yet to run anyone who would accept broken deliveries.
What can you do?
Be prepared for a tip run. Locate your nearest recycling center in advance or hire a lovely company to come collect your rubbish and do the tip run for you.
Grab Your Design Project Planner
Cut through the fluff to discover what you REALLY want done around your home.
This planner helps you prioritise your goals and create an action plan to proceed with design confidence.
2. Damaged Furniture to Return
It never fails that at least one item will arrive with some level of damage. A scratch. A dent. Even a chipped or shattered lamp. Depending on the damage and the piece, here is what I suggest…
What can you do? 
First, inspect every piece as soon as it comes off the truck. "Blanket wrap" is what we call it when furniture isn't boxed, it is blanketed. This is what removalists do, and new fine furniture is also delivered this way often. The good thing about blanket wrap is that you can immediately see if there is a problem and note this to the carrier or removalist.
Boxed furniture requires unpacking, and there is often a grey line if it is freight damage or manufacture damage. (Again, do not use a Stanley knife to open the furniture — you could cause the damage yourself!) If you receive a box which looks damaged, note this to the courier as well.
Lastly, don't be afraid to tell the courier to wait whilst you inspect! It is their job. Legally, once you sign, it's your problem.
From the 1930s Canberra Bungalow
3. Damaged Furniture to Repair
Here's a story for you… On an install last year, a timber piece arrived with mould on it. I spent 3 hours cleaning mould off that piece, and believe me, I was not at all happy about it. So why did I do it?
Well, the back and forward of waiting and refreighting simply wasn't worth it. It would have inconvenienced my client and cost me at least an hour of conversation, plus the weeks (or months) waiting for the piece to arrive again. 3 hours and a little labour on my side was easier. And the piece is perfect now.
What can you do? 
First, you can inform your supplier, and see what they can do. I only work with suppliers who stand behind their products, and as a supplying decorator I stand behind my products when the issue is a grey area.
If your supplier isn't standing behind their products, occasionally, you can't do anything but suck it up and repair the piece yourself. How can you decide when that's the case? First, in instances when you can't guarantee the replacement won't suffer the same fate on its way. And second, if arguing about it will cost you a lot of time and energy.
When both of those are true, your best course is to action it yourself.
4. Flat Pack Furniture (or Assembly)
For quality furniture, at most, you will need to attach a table top to the base or put a bed together (Allen key). There is very little assembly required. Flat pack furniture, however, is a different story.
Although Journey Home doesn't order flat pack furniture (usually because the quality is lower and we need to be able to stand behind our selections), I do know that it can require following instructions, the tools I mentioned above, and even some muscle.
What can you do?
If you are stuck or simply don't want to assemble it yourself, I believe you can use Airtasker. Or sometimes the store can arrange for someone to put it together for you. They say engaged couples should assemble flat pack furniture to see what they are each in for!
Our install, the Kingston Bachelor Pad and behind-the-scenes video
5. Surprise! — Your Floor Isn't Level
Now, onto wall units. This is the one that always surprises people, because I can almost guarantee that you will find that when you install your wall unit (like the one above) the doors are not sitting flush. And I can tell you with 99% certainty that it is NOT the piece which is unlevel… IT IS YOUR FLOOR!
How do I know? Because I have literally never installed a large wall unit in a home with a perfectly level floor, new or old. That's just the way it is.
What can you do?
A wide piece may need some wedges or shims to level it for the floor. Sometimes, a wall unit will have levelers inside the base or you can use your own.
Also worth mentioning — wall units should be bolted to the wall for your safety. Attaching the top to the base is not enough, for even the most stable of pieces. Luckily, it doesn't require huge holes in your wall.
Consider calling your local French polisher or joiner for assistance. If the wall unit is to be wired up, you want to get the delivery, sparky and joiner teed up to arrive at the same time. Not impossible, but does require a bit of coordinating.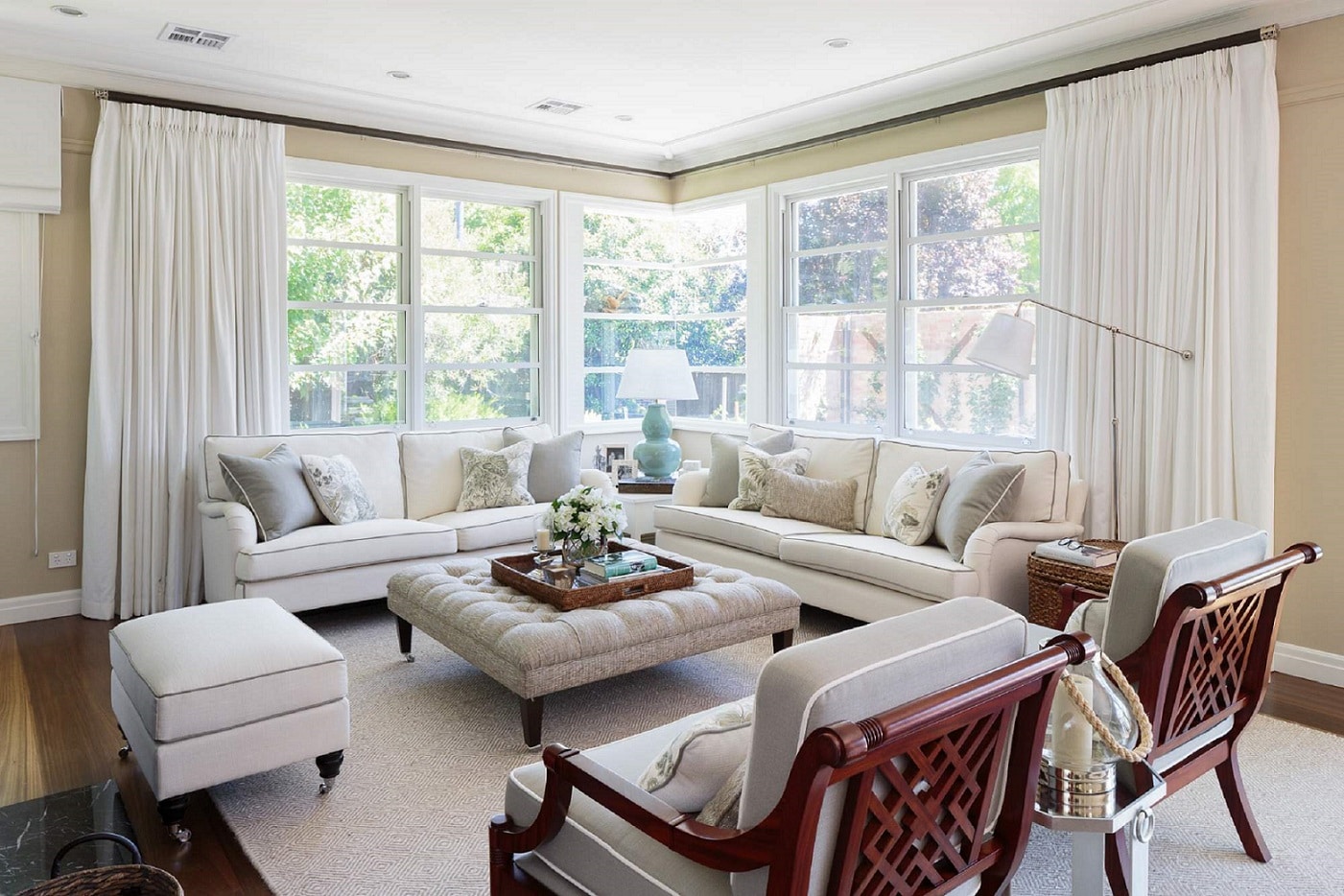 Install we completed for this classic living room in Reid.
There you have it. 5 situations you should be prepared for and way of… but the rest is good fun, I promise. 😉
When the work is done and you have a beautiful home that brings you pride and sophisticated relaxation every day, well, it's quite worth it, don't you think? We sure do.
Yours,
Nadine
P.S. In case you get your new furnishings into the space and realise you need to declutter (again), my Guide to Decluttering with Conviction can help!