This week, I am taking you through the steps to create a beautiful and functional room layout on your own. Why is this step so important when decorating your home?
Well, imagine going out to the shops and buying that sofa you've been dreaming about. It's delivered to your home, assembled in your space, and you realise… "It's WAY too big." 
When it comes to big ticket investments, you want to be sure to get them right. Furniture that is not properly scaled — too big, too small — can lead to a look you don't love, create a dysfunctional space, and lead to long-term discontentment. In other words, the last thing you want from your forever home! So, follow along with me as I show you how to create the room layout that is right for you.
Step I: Measure Your Room in 5 Simple Steps
1. Take Photographs
I always take photographs and refer to them often when designing a room. You can use an iPad or a phone (iPad is better for bigger photos). Here are the angles I suggest:
Photograph the approach of the room, what you see when you arrive

Capture photographs where you look through a room and out to a view

Stand in every corner of the room and take a photograph

Take a photograph from the middle of each wall
I'll be using my own home as an example!
2. Draw a "Mud Map"
Next, you will want to draw the basic shape of the room. It doesn't have to be perfect, but do your best to account for any odd angles if you are not working with a rectangle. 
Next step, create markers for the main features of the room. For example:
Put dashes where you have windows, doors, or double doors (note which way doors open)

Draw in the fireplace or any built-in items

Write "PP" wherever you have power points. 

Denote a TV or gas point

Create markings, like circles, for your overhead lights or fixtures
My room is a basic rectangle. Dashes mark the windows. We can see where doors are located and the direction they open. (The previous image is the left-hand doorway.)  We also have two power points, and there's a light fixture in the room's centre.
3. Draw Wall Elevations
Our first drawing was a bird's eye view. Next, we will draw the vertical aspect of each wall. Here's an example:
I created another rectangle to represent wall A (which I'm pointing at in the photo below). The bottom line is the floor, the top is the ceiling, and you can see that I've drawn in the fireplace and a window to either side. 
I will number (letter) the walls, and do this for each of them. This is important because we will soon fill these with our measurements!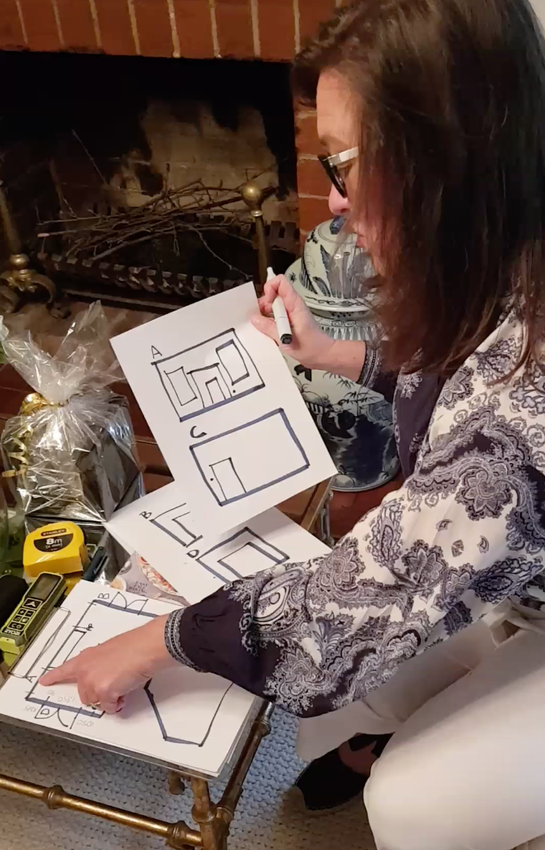 4. Measure the
Horizontal
Aspects of the Room Layout
Next, you will want to use a tape measure or laser measure (laser measure is easier) to find the length and width of the room. Write it on your mud map. 
You'll also want to measure and record the width of your architraves — the trimming around doors and windows — along with the distance from wall to architrave, the width of room opening, each wall to its windows, wall to fireplace, etc. 
Here, I'm measuring from wall to wall.
5. Measure the
Vertical
Features of Your Room
It's important to also measure the vertical aspects of your room for selecting furniture and things like art. For items in the way, take the measurements in blocks and then add them together.
First, measure the ceiling height, and measure different heights of your ceiling if you have design details like cornices or coffering. You should also measure the height of doorways, the height of your fireplace, the height above the fireplace, the height of power points (so they get hidden but not blocked), etc. 
Once you are done, your mud map should be filled with accurate measurements of every element and distance — essential for creating any furniture layout done right!
Step II: Inventory
1. Determine the Room's Function
A furniture and room layout destined for your forever home should absolutely support the lifestyle you want. This means determining the function of your room in advance and identifying the features and furniture that will make it reality.
Fortunately, we already accomplished this step during April's activity to create your design concept. If you skipped it, be sure to go back and tick it off the list! 
If you've been following along with us, you also already accomplished the next important part of taking inventory…
2. Purge Unneeded Items
Having too much existing furniture, especially furniture that is NOT aligned with what "living beautifully" means to you, holds you back from a forever home that you feel excited to wake up in every day.
Not to mention that too many pieces will make selecting any new furniture harder. It will box you in your decision making, for example, trying to tie a mish mash of styles together.
If you are still holding on to items that no longer serve you, now is the time to make those decisions.
Our latest download, Top 3 Things You Need to Know about Creating a Furniture Layout, includes a handy chart (with point system!) to help you decide what should stay and what can go without guilt.
3. Measure the Items You Will Keep (or Buy)
Now that you know what will be going (or staying) in the room, take length, width, and height measurements. You can match these measurements against your initial room measurements to make sure they fit before making any big purchases!
Cosy furniture arrangement yet clutter-free!
Step III: Create Your Room Layout
Now comes the fun part — planning the layout of your room! Yes, I know this is the step you have been waiting for, but it is essential to take your measurements and inventory FIRST. Can you imagine spending dollars on furniture that is too big, or creating a beautiful room layout that blocks all important power points? Exactly. 
1. Create Paths for Easy Flow
I suggest planning the flow of your space (in other words, the empty space) before settling on the furniture itself. For example, consider how people will enter the room. Will they traverse the whole space? Will they be sitting down and where makes the most sense? What path will they take when leaving? Etc.
Note: Creating multi-functional "zones" in an open concept space is something we cover in our free resource, Top 3 Things You Need to Know about Creating a Furniture Layout!
2. Place Furniture around a Focal Point
In many cases, furniture will be placed around a focal point, such as a fireplace, a television, or a lovely view out the window. What is your focal point? What furniture would you love to have around this point so that you (or future guests) will most enjoy it?
Start brainstorming a few furniture layouts that would achieve your functional goals, and be sure to keep your eye out for those valuable power points. We wouldn't want them to accidentally become inaccessible. 
An example of a completed room layout
3. Check Your Measurements
Lastly, remember those measurements we took? Now is the time to cross-check your measurements with your favorite furniture layouts. Will the furniture fit? Will there be too much negative space? For furniture you don't have yet, what is the ideal size? 
Once you have your favorite room layout and know which dimensions will work, you are ready to bring that furniture layout to life!
Note: I am offering up some of the most common measurements in a home (such as the ideal distance between a sofa and a coffee table, in an entryway, etc.) within our free resource, Top 3 Things You Need to Know about Creating a Furniture Layout.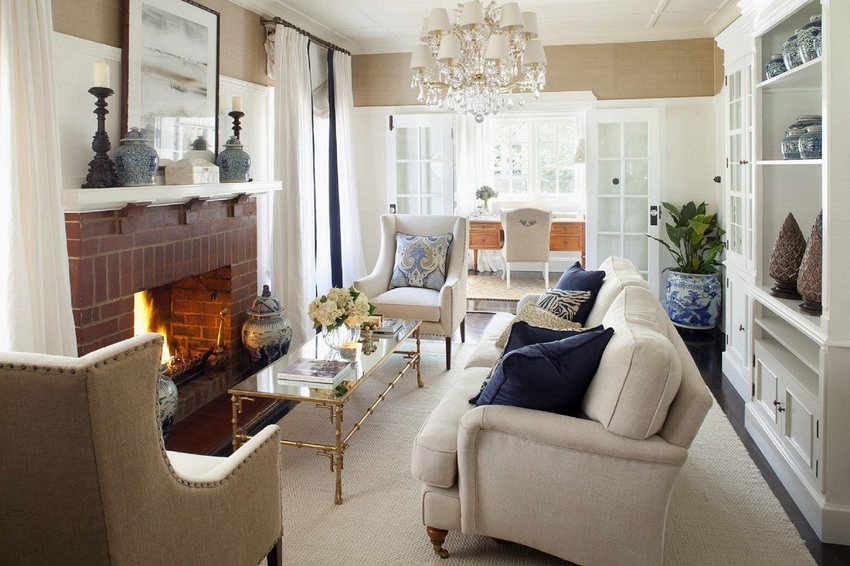 I could not have filled this space without doing all of the steps above!
Now, it's your turn. Grab your trusted tape measure (or invest in a laser model) and start your journey home! 
And if you're feeling overwhelmed or unsure about anything along the way, please don't hesitate to reach out. Decorating is my passion, and I can't wait to show you how a beautiful, well-designed home can change how you live and feel every day.
Book a free 15-minute chat with me here, and I would love to point you in the right direction. Until then, I hope you enjoy this step of the journey!
Yours,
Nadine