The next stop on our Plan Your Design Year Series couldn't be more timely… design concept dreaming. This is the FUN part. As we're all spending quite a bit more time at home these days, we could use a little joy and creativity, don't you think? (Retirement test run, anyone?!)
If you haven't joined us yet and you have some extra time on your hands, it is certainly not too late. You can get caught up with us here:
          January: View month-by-month design plan
          February: Declutter your spaces (and get our guide to decluttering with conviction!)
          March: Define your project's scope and strategy
Now, let's start April's design adventure…
What is a design concept?
Remember those inspiration photos you pulled together in March? In the concept dreaming phase, we're not just looking at pretty pictures. Now, we're going to analyse them, give them purpose, and use them to create your most classically beautiful forever home.
For some cosy reading, you can also check out Donald Rattner's book, How to Design Your Home to Stimulate Ideas and Spark Innovation — it's a good one.  
Step 1. How do you want the space to feel?
The reason we do anything is to feel a certain way. Why do we eat? To feel satisfied. Why do we get dressed up for date night? To feel beautiful and appreciated. Why do we decorate our homes? To feel and live at our best! 
On the surface, you may think you are just looking at pretty things you might like, but design concept dreaming really boils down to how you want to FEEL in your forever home.
Here are a few feelings you might want from your home and some design elements that could create those feelings for you:
          Cocooned → sumptuous TV lounges, dark walls,  4 poster bed.
          Creative → strong colours, light, and nature
          Connected → conversation layouts, art or photos that include people, variety of seating
          Healthy and nurtured → a well-functioning kitchen, greenery, a space for Yoga
          Bountiful → well-stocked cupboards and bar
          Like you've made it → luxury finishes, generous sizes
          Happy → family-oriented, bright colour, room for the Christmas tree and family visitors
          Safe → clean curves, soft furnishings
Take note of which feelings most resonate with you. Then, go back to the Pinterest photos you saved and ask yourself how each of the photos make you feel. Do the feelings match what you expected?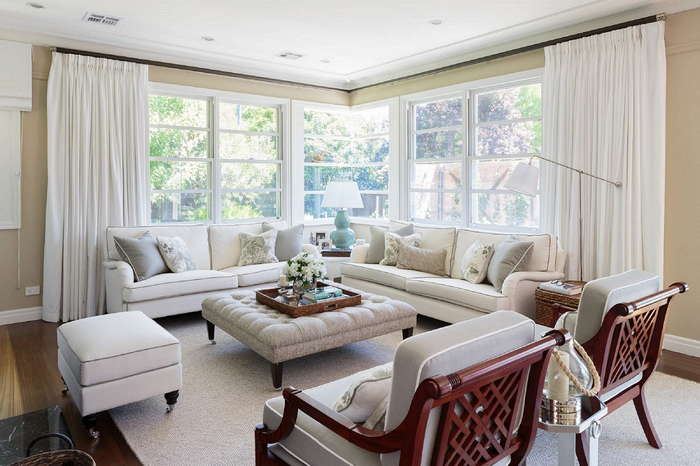 Soft furnishings, thick drapery, and cool neutrals bring comfort and ease to this beautiful living room in Reid, while minimal rich wood tones keep it grounded.
Step 2. What does your design concept need?
In this step, I suggest walking through your home (or the room you would like to design) with a notepad and pen. As you do, go through the motions of using the space — or how you would LOVE to use it — and write down what you'll need.
For example, I'm walking through the laundry door, where is the dump spot for clothing? I'm entertaining guests in my kitchen, where do I serve small bites and drinks? I'm serving brunch in the dining area, what other rooms can my guests see from their seats and do the rooms complement each other? You can even get down to, I am on the toilet… where do I wish the toilet roll was? (This is real life!)
Here are some item possibilities:
Soft seating, like sofas and chairs

Hard seating, such as bar stools and wooden chairs

Area rugs and runners

Dining room tables

Side tables, coffee tables, hutches or consoles

Shelving units

Tiles for splashbacks, bathroom floors, and showers

Kitchen or bathroom bench tops

Hardware selections, for faucets, cabinet knobs, etc.

Mirrors and accessories

And so on!
You get to imagine your forever home exactly how you want it to be. Write down the furnishings and features you'll want, and then we can move to the next step…
Step 3. What do you love and why?
Now that you know how you want to feel in your space AND you know which furnishings you might want, you can make a list of which design features will create those feelings. Again, this isn't just dreaming, it's also decision-making!
Colour Palette
I suggest selecting a base colour palette that you love first. A base colour palette usually consists mostly of neutrals (white, grays, beiges, black, or blues), which can be complemented with another accent color or two.   
Your accent colours will often differ from room to room to give each space its own personality, while your neutral base tones can be infused throughout your whole home to create harmony. This is part of how we create a holistic design!
So find some palettes you love, pick out some accent colours that you might like for each space (for example, lively gold accents for an entertaining space, soothing blues for a dreamy bedroom). The choices are yours!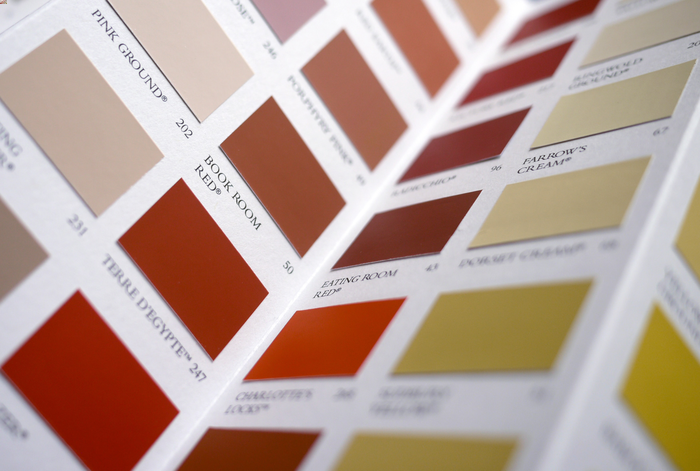 Grab the Hamptons Colours for Canberra Homes Guide
To achieve a Hamptons colour scheme,  download my free guide to Hamptons colours.
Drop me a line and let me know how you go!
Furnishings
You probably won't know sizing yet (we'll cover that next month), but you can get creative and start looking at options. Take notes or "Pin" items that are on your list, come in colours that work within your chosen palette, and have textures that create the feel you want, such as velvet, linen, leather, etc.
You can create several Pinterest boards for each room in your home. This allows you to get a zoomed out view of how the room could look, as well as compare and contrast options. The perfect time to get creative and have some fun.
Lastly, when you're done, edit the items down to include only the final contenders. This is the time for making those aesthetic decisions, after all!
If you finish up and find that you still have time on your hands, scoop up some of more of our downloadable design resources, waiting for you here. 😉
Until next week, I hope you all stay safe, keep calm, and carry on decorating.
Yours,
Nadine
Want To Learn More About Our
Decorating Services??
Journey Home offers our Stage 1 Decorating service where Nadine helps you identify the best furniture layout for your space and your style.