How do you select furniture for your home? Do you need to get quotes? Should you buy one piece at a time or save up for an entire room?
This month's post in our Plan Your Design Year Series will help you answer these questions and more. Here's a quick recap of where we are in the design journey, in case you missed any of them:
January: View month-by-month design plan
February: Declutter your spaces (and get our guide to decluttering with conviction!)
March: Define your project's scope and strategy
April: Create your design concept
May: How to create a room layout
We've been sitting at home dreaming of beautiful spaces for long enough! Let's get to it.
1. The Right Preparation
As we covered in my last several posts, a plan is essential to designing a beautiful and holistic home. So to start, let's refer to the Furniture Layout you created in May. This will tell you where the gaps are in furnishings that need to be sourced. For example, maybe you love your current sofa, but you know you need some classic end tables to replace the ones you've had for twenty years. Everyone's situation is different, and you have your list!
Your Furniture Layout will also tell you which are the existing pieces you are working with. These are important to note because they set the tone for the rest of the scheme.
Your architecture will also play a role in the overall design, such as what is going on with nearby joinery? It's important to make sure that your furniture selections at least give a nod to your architecture. If you have a home with classic character, like traditional trim or arched doorways, classic furniture will fit in effortlessly. If you have a home that is very modern, but you know you love classic decor, you'll want to mix in just a few pieces with clean edges to create harmony in the room.
In April, we created your Design Concept. Now is a good time to look at it again as well and make sure it still fits with what you want. You can touch it up if you've changed your mind about a piece or about keeping any of your existing furniture. Or, you can edit a piece or two if you need to address the architecture.
Once you have your Furniture Layout and your Design Concept, you will have a really good framework to select furniture.
This is the furniture size buying guide you'll receive in our Furniture Layout service. This is the same type of list you should create if doing it yourself!
2. Start a Moodboard
Before making any purchases or finalizing your selections, I advise creating a moodboard. What does a mood board do? It helps you see the holistic picture of what your space will look like.
Making a moodboard involves placing images of your furniture pieces on a page or screen, so you can see if different pieces complement each other. I still do this for myself in Microsoft Word. The program may not be designed for moodboards, but it's enough to see whether the pieces will work together!
Remember to try to shrink or expand the images so that they are looking proportionate with each other, and place them so that they have a relationship. Say, your lamp images go above tables. Light at the top, rug at the base, you get my drift. For existing furniture, you can either use comparable models you find online or scan in a photo of the piece.
Pro Tip: If you are finding the bright fabric colours of the supplier's website image distracting, print the image, trace it, scan it, and then load your sketch into the moodboard.
The following tips will help you make selections as you compile your moodboard — or moodboards if you like options! Here are a few examples to inspire you…
Top 3 Thing To Know When Creating a Furniture Layout For Function & Beauty
Download your Guide on the Top 3 Things You Need To Know When Creating a Furniture Layout Around The Home For Function & Beauty
3. Identify the Room's Key Furniture Piece
Your best first step is to work on the key functional piece that everything else in the room will revolve around. This is usually a large item that has a loud voice in the overall design. In the living room, it could be the sofa or the wall unit. In the bedroom, the bed head. If you are doing custom pieces, you can start with the colour of the upholstery.
If you don't have any of these things, a great place to start is your rug.  If you already have a rug (or plan to get one) this item is a great item to place first on your moodboard. The best rugs create harmony in a room by bringing together the room's hues. Or, in the other direction, picking a rug you love and letting it inspire the other hues in the room.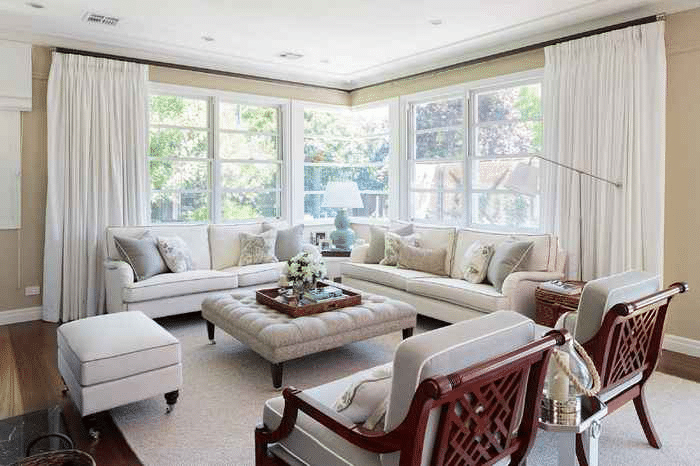 Using varying shades of ivory for the rug and furnishings creates a lightness, comfort, and depth.
4. Tips on How to Select Furniture
I think you'll find that trial and error are the best teachers when it comes to making selections. Keep placing new items on your moodboard until you find a classic combination that makes you practically giddy with happiness. The following tips can offer some guidance as you go…
Consistent Woods
Try to keep the wood colours fairly consistent. For a classic interior, I usually avoid blonde woods completely – they are just too boho or Scandinavian for me. (Though I do say that we tend to dislike what we grew up with, and for me it was Parker furniture!)
Vary Furniture Style
A classic space is also an interesting space, so when it comes to furniture styles, don't be afraid to mix it up! Use feature chairs that show some frame or mix up the upholstery fabrics. If you are looking to play up the space, use furniture with good legs. A little variety goes a long way.
Appropriate Sizing
Sizing is also extremely important, so please, do your measuring in advance! For example, ladies tend to have shorter legs and need either a shallow sofa or more cushions. I also advise checking out this post on the most common decorating mistakes.
Explore Colour
This is also the stage where we get to choose a lot around colour and form (shape) of things. Your moodboard and predetermined palette will help you see which colours work well together.
Create Balance
I've been selecting furniture for so long that I do it almost unconsciously now, but the real trick that I've mastered and suggest is… balance.
Balance wood work with upholstery. Balance detailed carving with some plain wood. Balance old with new. Balance a small pattern with a large one. Balance light and dark.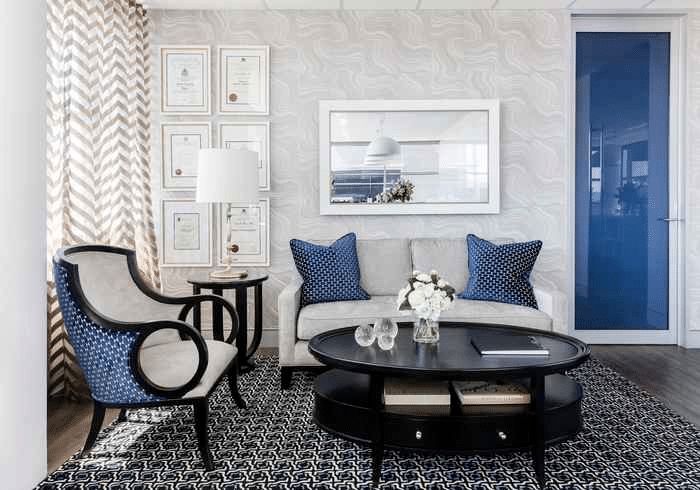 Our design at Plumery Jewellery Boutique. This chair looks great with small patterns and large patterns as an accent.
5. Quoting
Using my furnishings budgeting guide, you may find some things at varying prices out there, but it's a great starting point. The column about what your money buys can give you some pointers, such as what sort of different rugs you can get, window treatments, etc.
Start filling in the budgeting page with the prices you find as you design your room. (My projects are run on detailed spreadsheets covering everything from cushion inner to the hook on the curtain.)
When it comes to getting quotes and purchasing, I don't suggest deciding and buying item by item. Designing in an ad hoc way will box you in as you get down the line, and the result won't be as put-together as you would have liked.
Instead, start to gather the cost of things but don't start buying until you have everything more or less costed and sorted.
Another tip of the trade… I just think it's best to save up to do one room at time. Having a complete room will give you a confident win and somewhere to enjoy as you progress the rest of your house. Having no rooms complete (or buying new furniture pieces here and there) just leaves you with a great big to-do list in every space you walk through in your home.
A good room to start is the bedroom. It's hard to mess up the furniture plan, and you probably will already have the mattress, so that's one thing you don't have to buy straight away. It could be a quick win to build your confidence and learn from for the next room.  I often even suggest clients start there if they want to book me and get a feel for working with me. It's a low-risk space!
Once you've created your moodboard, gotten your quotes, and feel comfortable with your choices — you are ready to make your purchases with confidence!
I know that it can be a little daunting to click Buy on a high ticket item, but following my approach will lead you in the right direction. You'll have the confidence that your choice is based on how you want to live, the look you love, the ideal layout of your space, and cohesion with the rest of your home. That's design with your most beautiful home (and life) in mind!
So, I hope you'll give this next step a try, and reach out if you need any additional guidance. And if you haven't yet, be sure to download my furnishings budgeting guide to help with the quotes part!
Until next time,
Nadine