"You don't know what you don't know." My favourite financial adviser, Luke Smith of Envision Financial (catch him on 2GB every Friday afternoon), has said it for years now, and he is absolutely right.
Weekly, I see how this plays out in the design process. Unless someone is a repeat client, they simply can't know what lies ahead in an interior design or decorating project. Or, in the case of first-time clients who enlist my All Stages Custom Decorating Service, they simply don't know how much time, stress, and effort we are saving them… until they witness it for themselves, that is.
Then, there are the phone calls where I hear, "I don't need that, I just want this." The last thing I want to do is be argumentative and tell these nice people that their needs actually differ from what they think, but… my experience tells me that it's true. There's a reason I've structured my services the way I have!
I am often left thinking, "If they only knew what I knew" and "how can I convince them of what is really ahead of them? Because they are going to need help!" (I'm sure you've seen that the same is true for your area of expertise. If only others knew what we knew, they would be better prepared, right?)
So, how can I help you understand what a decorating project is really like? How can I help prepare you for what's to come? Today, though it might not be easy, I am going to give it a solid try!
Here are 3 things that most people don't know when designing their homes…
1. Your spouse may roadblock your decorating project
A couple months ago, I shared a blog post about the arduous task of getting your husband involved in your decorating project. To be honest, when I shared this blog post on social media, there wasn't much reaction. And frankly, I was really surprised.
I have seen this issue come up again and again over the years — I thought there would be hundreds of wives out there sighing with the relief of knowing that they are not alone!
Then, I realized that 1) admitting our at-home banter publicly can take some courage, and 2) anyone who hasn't started their decorating project yet probably doesn't know what's coming!
For example, you might only have an inkling of how your husband is going to react and/or participate in the process. I even had one terribly embarrassed customer apologising for her husband's behaviour during a consultation. I bet she didn't see that coming, but it wasn't the first time I'd seen it!
Here is what is likely to happen:
1. Retracted support
You may hear what feels like full support with the words "do whatever you want, honey". I wish I could tell you otherwise, but 90% of the time, these words do not imply free reign. It means that you have free reign… until he sees everything after the fact and decides to have an opinion! (And to be fair, HE might not even know that this is going to happen!) Getting him involved early, see my tips below, will help you both avoid this scenario.
2. Investment shock
In my experience, most people don't know what quality furnishings cost (though you do, thanks to my Guide to Budgeting Your Home Furnishings!), and that goes double for our husbands. Whether he controls the purse strings or not, you probably don't want him to be shocked when that invoice arrives. Communicating early about budgeting will save many tough conversations and potential heartache if you can't get the sofa your heart was set on.
Here are 5 ways to get the Mr. involved early and keep the lines of communication open — two essentials for a successful, stress-free project.
From our award-winning design project in Ainslie
2. A decorating project never just needs "colours"
I have had many phone calls with prospective clients who tell me, "I just need help with colours". I can see where this thought comes from, but it's a little misguided. (Sorry!)
What is really involved in colour selection?
When it comes to colour, there is SO much involved. Colour is nuanced and requires us to look at each individual element and the whole picture. Not just in the room in question, but also in your whole home. (Having one room that feels vastly different from the rest is going to create a disjointed living experience.)
Unfortunately, there are no magic pillows that will create colour cohesion in your space. There is no one wall colour that can create harmony between mismatched furnishings. We have to look at it holistically.
Yes, there are decorators out there who will help you select a shade of paint for your walls. But I have seen too many scenarios where these same clients come my way a year later because, even if the wall colour was perfectly selected, it didn't magically transform the room into the one they dreamed of.
When we talk about colour with our clients, it is usually during our Furniture Layout & Design Goals service or our Custom Decorating service. It is discussed in the context of your design goals and what you want your space to look like. I really don't want to give you a quick fix, when I know you could instead love your home for a long, long time.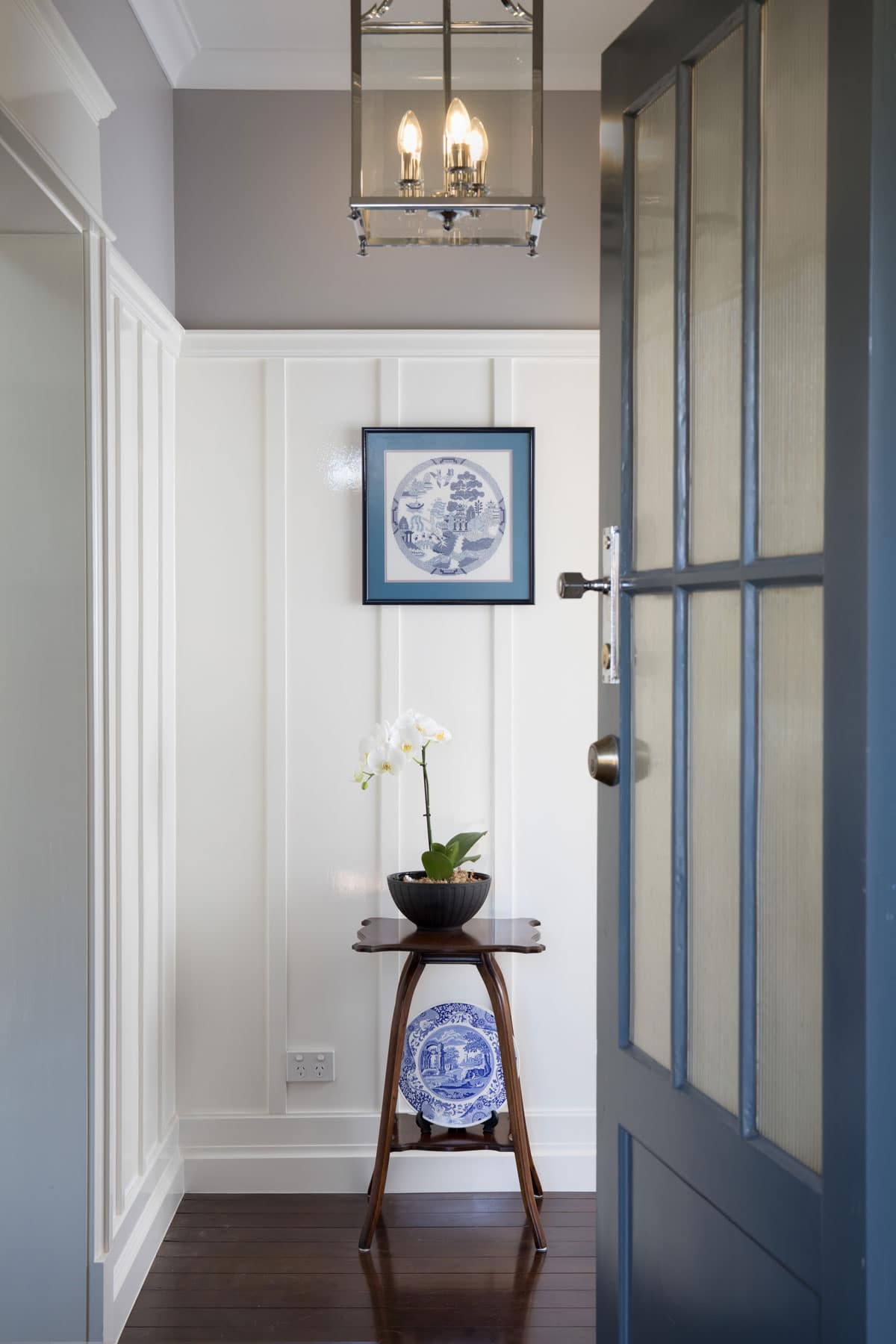 Grab Your Design Project Planner
Cut through the fluff to discover what you REALLY want done around your home.
This planner helps you prioritise your goals and create an action plan to proceed with design confidence.
The other colour-related fact you probably don't know…
If you're designing or decorating on your own, there's a second layer to colour selection — how are you really going to document this all down for clarity with your builder? 
Will you believe me if I explain that you need my Build Project Design Organiser to document selections? To ensure that your splashback is a shade of creamy Chantilly and not an overbright eggshell? And in many cases, to get realistic quotes from your builder before a project begins?
Again, honesty here — most people don't believe me at first. They don't realize they need documentation until their builder is demanding it. And hardest of all — most people don't realise the importance of quality documentation until a budget-derailing mistake is made…
My best suggestion? Don't settle for a quick fix. Find a professional you trust who has a solid process and understands the nuances. Then trust them to guide you through the necessary steps to creating a room that exceeds your expectations.
3. Furnishings are more than a list of products
Here's another one I've heard over and over again: "I just want a list of furnishings I can purchase on my own". And again, I can relate to this desire.
Wouldn't it be nice to have a professional designer send you a list of furnishings that go perfectly together, reflect your taste, and work in your space? Of course! But this is impossible to do successfully without going through a strategic process of extensive research, measurements, iteration, etc.
For example…
What is the function of the room?
How will the furniture be laid out?
Where is accessible electrical access and overhead lighting?
What will be the flow of traffic through the room?
What items do you already have and which do you need? And is there room for them?
And we haven't even talked about style yet!
There's a reason I named my design firm "Journey Home Interiors". Designing a home really is a journey! If you're serious about getting a home that brings beauty and pride into your everyday life … you can't skip the important bits.
My best advice, again, is to work with a designer who understands the process and is willing to work with you to create a space that ticks all the boxes… and more. (For us, our Furniture Layout & Design Goals service and our Custom Decorating service do this for you.)
See how we balanced our clients' existing furnishings and new ones in this Deakin Project Reveal.
I hope these 3 common misconceptions have given you a little insight into what your decorating project might entail. My goal is to be your guide through all of this, helping you identify and achieve your vision for your home.
After all, your interiors should inspire your most beautiful life.
If you need a little assistance, we have several complementary resources available to you here, from our comprehensive Project Planner to our step-by-step Furniture Layout Guide.
Until next time,
Nadine