"You don't know what you don't know." My favourite financial adviser, Luke Smith of Envision Financial (catch him on 2GB every Friday afternoon), has said it for years now, and he is absolutely right.
Weekly, I see how this plays out in the design process. Unless someone is a repeat client, they simply can't know what lies ahead in an interior design or decorating project. 
I am often left thinking, "If they only knew what I knew" and "how can I convince them of what is really ahead of them? Because they are going to need help!" (I'm sure you've seen that the same is true for your area of expertise. If only others knew what we knew, they would be better prepared, right?)
So, how can I help you understand what a decorating project is really like? How can I help prepare you for what's to come? Today, though it might not be easy, I am going to give it a solid try!
Here are 3 things that most people don't know when designing their homes…
1. A home project never just needs "colours"
I receive a lot of phone calls where I hear, "I don't need that, I just want this." The last thing I want to do is be argumentative and tell these nice people that their needs actually differ from what they think, but… my experience tells me that it's true. I hear this request the most in regard to colour selection…
"I just need to pick the right colours for paint, benchtops, joinery, or tiles."
"I just need some decorative pillows to tie together all of the mismatched colours in the room."
Sound familiar? 
What is really involved in colour selection?
When it comes to colour selection, there is SO much involved. Colour is nuanced and requires us to look at each individual element and the whole picture, and not just in the room in question, but also in your whole home. (Having one room that feels vastly different from the rest of the house is going to create a disjointed living experience.)
Unfortunately, there are no magic pillows that will create colour cohesion in your space. There is no one wall colour that can create harmony between mismatched furnishings. We have to look at it holistically.
Yes, we can help you select a shade of paint for your walls. But I have seen many scenarios where these same clients come my way a year later because, even with a perfectly selected wall colour, the room didn't magically transform into the home they dreamed of. There was more to do.
If colour is a concern for you, we really do want to help. Our Ask an Expert Service is 1-on-1 coaching and consulting over Zoom, giving you the answers to your burning questions (based on our more than 10 years of experience) and helping guide you to creating a room that looks and feels exactly how you always imagined it could be…and maybe even better.
From our award-winning design project in Ainslie
2. Design MUST come before any building or purchasing.
It is a common mistake to take action on your home before the right design decisions have been made. For interior design and build projects, it is a mistake to hire the builder before you have selected the materials that will be going into your new kitchen or bathroom. For decorating projects, it's a mistake to order one piece of furniture for your new living room, wait for it to arrive, then see how it looks before moving on to the next piece of furniture for the room.
In both scenarios, you have an improper order of operations. Which order is correct?
It is ESSENTIAL to plan the design first, before taking any action. THAT is how you create a home that looks and feels cohesive, intentional, and beautiful…not piecemeal and thrown together. So, what can you do?
For decorating projects, why not get a low-commitment, professional opinion to guarantee you have created a smart furniture plan and selected the right products (and yes, colours) before making purchases? You can use our Choose Your Own Adventure Service to get just the bits you need. 
If you're planning a build project, start here: with my Build Project Design Organiser, where you can document selections for every aspect of your space in order to communicate it to your future builder. This ensures accurate quotes (super important) and that your splashback is the shade of creamy Chantilly you chose and not an over-bright eggshell. Or, use our Designer for a Day Service to enlist our help making these selections with you.
Again, honesty here — most people don't believe me at first when I tell them that design selection and documentation are crucial to project success. They don't realize they need documentation until their builder is demanding it. And hardest of all — most people don't realise the importance of quality documentation until a budget-derailing mistake is made…
My best suggestion? Don't settle for a quick fix. Find a professional you trust who has a solid process and understands the nuances. Then trust them to guide you through the necessary steps to creating a room that exceeds your expectations.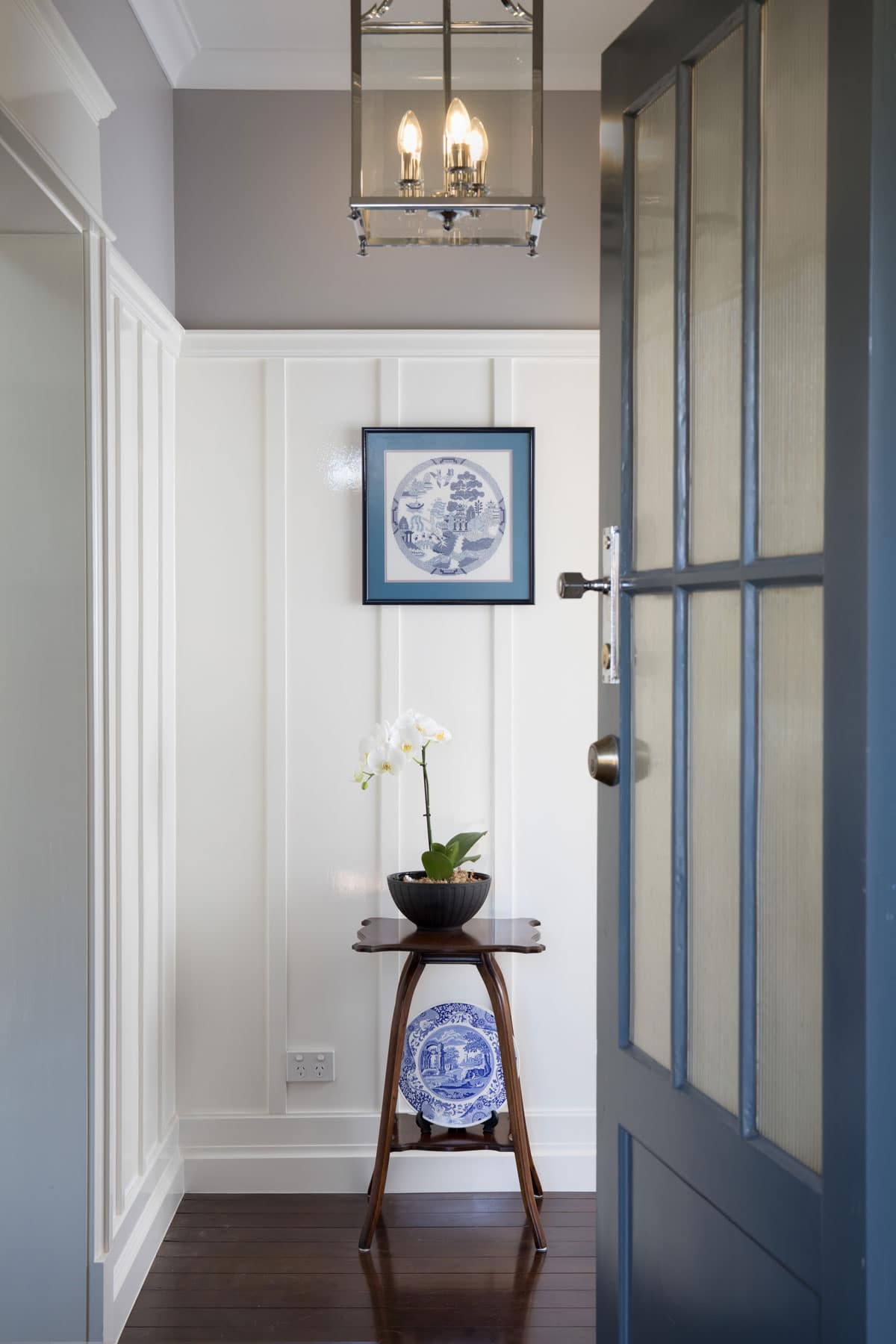 Grab Your Design Project Planner
Cut through the fluff to discover what you REALLY want done around your home.
This planner helps you prioritise your goals and create an action plan to proceed with design confidence.
3. Furnishings are more than a list of products
Here's another one I've heard over and over again: "I just want a list of furnishings I can purchase on my own". And again, I can relate to this desire.
Wouldn't it be nice to have a professional designer send you a list of furnishings that go perfectly together, reflect your taste, and work in your space? Of course! But this is impossible to do successfully without going through a strategic process of discovery, measurements, and blending old and new.
For example…
What is the function of the room?
How will the furniture be laid out?
Where is accessible electrical access and overhead lighting?
What will be the flow of traffic through the room?
What items do you already have and which do you need? And is there room for them?
And we haven't even talked about style yet!
There's a reason I named my design firm "Journey Home Interiors". Designing a home really is a journey! If you're serious about getting a home that brings beauty and pride into your everyday life … you can't skip the important bits.
My best advice, again, is to work with a designer who understands the process and is willing to work with you to create a space that ticks all the boxes…and more.
Our Ask an Expert Service is perfect for those looking to get 1-on-1 assistance pulling a design together themselves, whereas our Choose Your Own Adventure Service can help you get design selections for just the bits and bobs you need…though, yes, we always do our homework first!
See how we balanced our clients' existing furnishings and new ones in this Deakin Project Reveal.
I hope these 3 common misconceptions have given you a little insight into what your decorating project might entail. My goal is to be your guide through all of this, helping you identify and achieve your vision for your home.
After all, your interiors should inspire your most beautiful life.
If you're not ready for hands-on assistance, we also have several complementary resources available to you here, from our comprehensive Project Planner to our step-by-step Furniture Layout Guide. I hope they help!
Until next time,
Nadine