I met with a former client the other day, and over lunch and good conversation, the memories of her classic master bedroom project came flooding back! 
Since we just launched the Journey Home blog, I thought, Why not take you behind the scenes of her project?
This particular project was a fun one filled with design dilemmas, decision-making, and even a big leap of faith. Here's how the journey unfolded…
The Journey to a Classic Master Bedroom
There is a tendency when one travels to purchase manageable, small furniture. After years of overseas postings, our previously expat clients had an abundance! When the couple finally settled in Deakin, they decided they were ready to audit their existing furnishings, create the classic style they love, and arrive at their forever home. 
This is the moment they invited us in!
Project Goals:
Audit the client's existing furnishings

Repurpose lovely older pieces to other rooms in the house

Infuse style for a classic master bedroom

Address an awkward, out-of-alignment window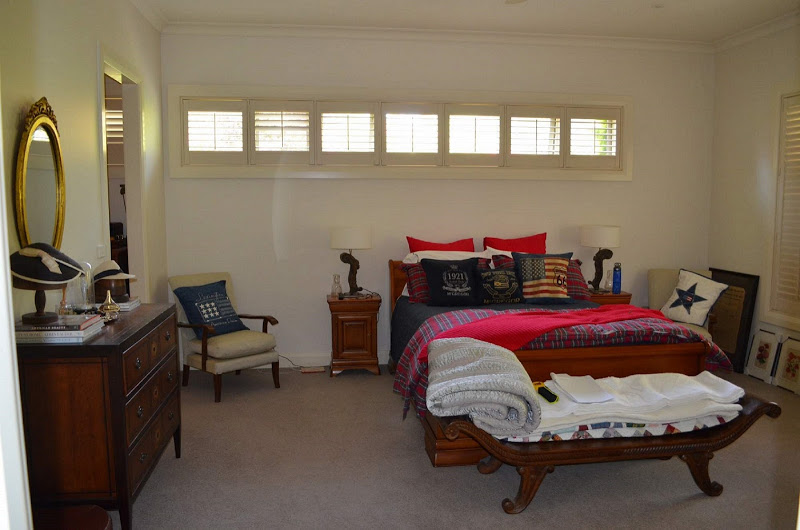 The "awkward" window in question. You can see that it's not centred quite right with the light fitting or the best placement with the bed. Not to worry, we had a solution!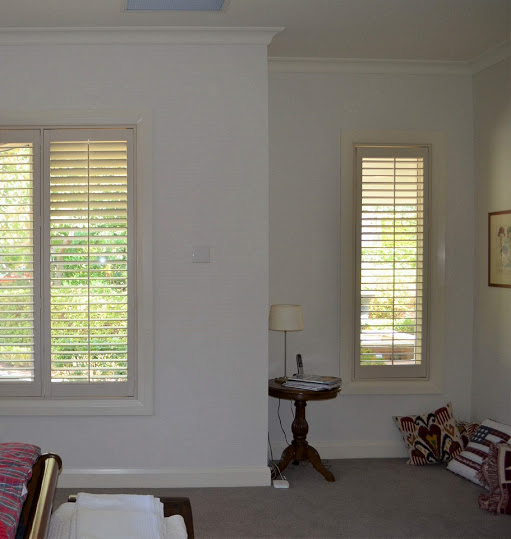 Another before shot. Here, you can see that we needed to scale the furnishings to fill the space. At the moment, there were a lot of bare walls and empty space. A classic master bedroom should feel full and sumptuous!
Project Approach
Our clients chose our All Stages Custom Decorating service, which means we worked with them to create the design concept, did the tough parts for them, and brought the space together for a gorgeous final reveal!
Let's pull back the curtains and take a look…
After Reveal: Classic Master Bedroom in Deakin
The destination is a fresh, classic oasis that feels luxurious and comfortable all at once. We replaced the tatty old ceiling fan with an elegant light fitting. 
Off-centre window… no longer! We solved this little situation by overlapping the curtain. Now, it's not quite clear where the centre of the window was — and the room has all the sexy symmetry of a classic master bedroom.
Thick drapery adds warmth and elegance to the room. Our client's favourite element (as is mine) is that gorgeous curtain fabric. It was on the expensive side, so it was a bit of a leap of faith when the decision was made — years later she is still loving it!
Grab Your Design Project Planner
Cut through the fluff to discover what you REALLY want done around your home.
This planner helps you prioritise your goals and create an action plan to proceed with design confidence.
We repurposed the existing bedsides to another room and supplied  grander, more luxurious models that fill the space and elevate the style.
Larger furniture, thick fabrics, and the high placement of the curtains give this space beauty, size, elegance and comfort.
We found this gorgeous armoire to hide the TV and beautifully shelter our well-traveled lady of the house's extensive and stylish scarf collection!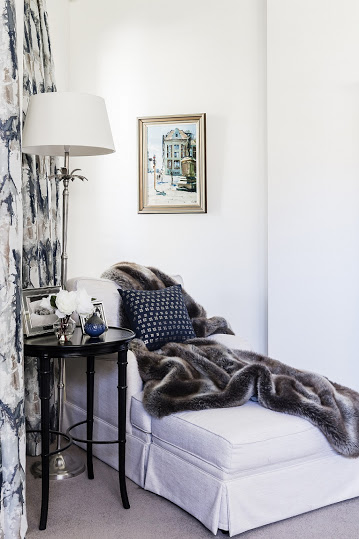 Personal touches like photos, art found abroad, and accessories bring more warmth, comfort, and style to this classic master bedroom.
A Forever Home to Be Enjoyed
When I spoke with this client over lunch recently, I was so pleased to hear that she is still really enjoying the room. She especially loves the leap-of-faith we took with the drapery. 
She also said that the room is off the entry and visible to guests… and they get lots of compliments!
I cannot tell you how thoroughly delighted I am to hear praise like this. Her words encompassed everything I believe your classic forever home should be: beautiful, comfortable, a place you love to spend time, and one that fills you with pride.
If you're at all considering what your most beautiful home would look like, I encourage you to take that first step! Until you've arrived, you can hardly imagine how it feels to live in a space you love. It fills you with joy, fulfillment, and the inspiration to live more beautifully than ever before.
I've been on both sides of the story, my friend, and I can't wait for you to arrive too.
If you're ready to take action, you can download our Guide to Budgeting Your Home Furnishings, or heck, just book a call with us and we'll point you in the right direction!
Yours,
Nadine