Build Project Design Organiser
for Builds & Renovations
Organise those hundreds of design-related decisions you need to make during the process of building and renovating into your very own Build Project Design Organiser.
Nadine has create this tool from many years of experience. It will prompt you on all the decisions you didn't even know you needed to make. It will also help you document your selections like a pro!
With this binder, you will save thousands on design fees.
10 Steps to Selecting Materials for Your Build or Renovation
Wondering what your renovation or build will require? Download our worksheet for the 10 steps you'll need to design the home you've always imagined!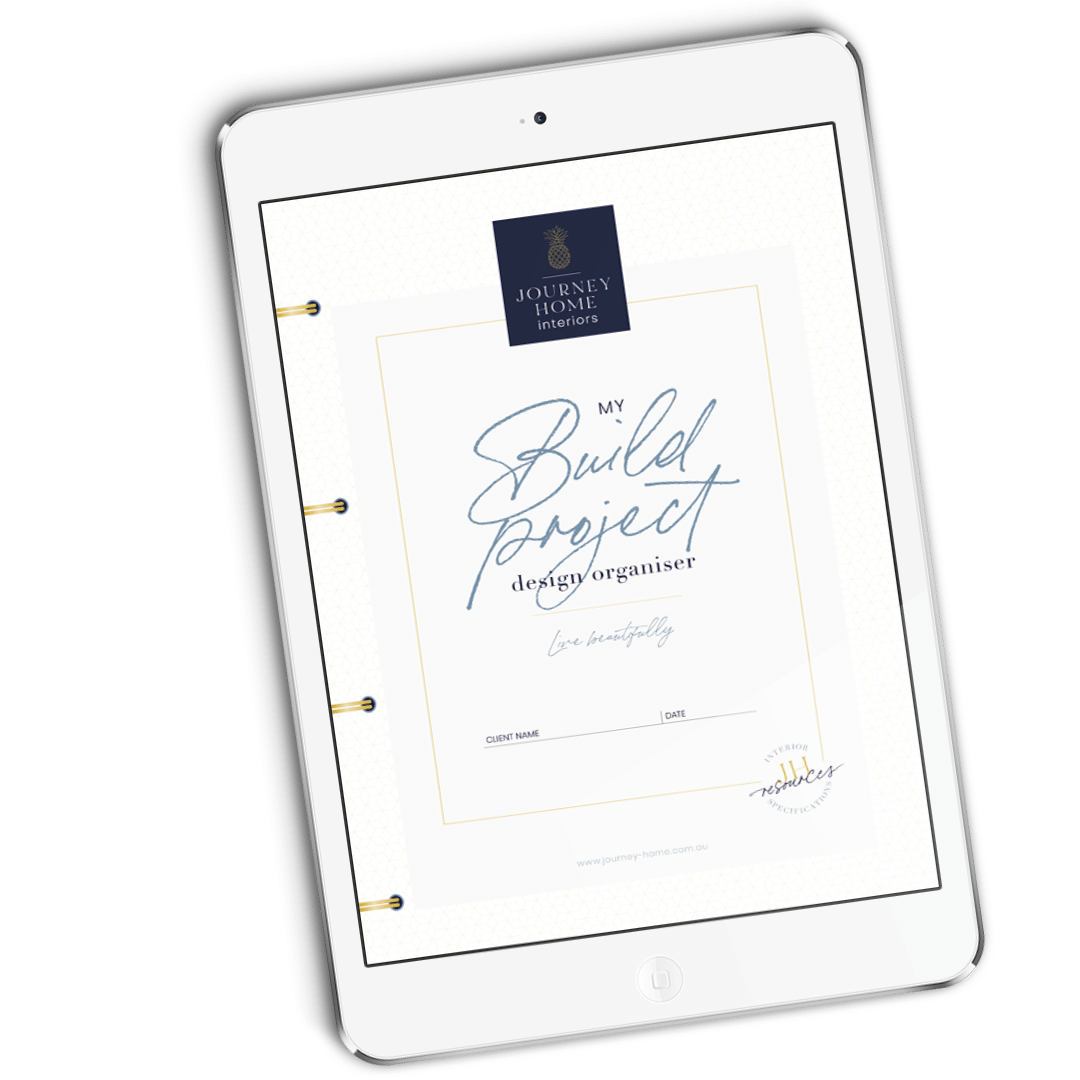 Nadine's Design Organiser
To help you organise your selections and present them professionally (and clearly) to your builder, I'm sharing with you the same documents I use myself.
My Design Organiser prompts you to make design selections you didn't even know you needed to make. Allowing you have clear documentation to present to your builder with confidence!
Warmly,
Nadine
The Design Organiser will help you:
Create a cohesive, organised design for your forever home
Document design selections with confidence & professionalism
Use your selections to get "apples-for-apples" quotations
Be better equipped and confident when you shop
Looking For One-On-One Support?
You know your style and you have ideas, right? But the builder needed your design selections yesterday and the shops just want to push all their products at you.
It can be so overwhelming!
A little expert guidance (from someone who has your best interests at heart) is all you need to carry on confidently designing your own home.
When you book our Designer for a Day service, you get one-on-one advice with an experienced interior designer. She will provide you with personalised advice and a VIP shopping day for your construction project.
BONUS… Our Gift To You
When you make the booking, you'll receive Nadine's Build Project Design Organiser… FOR FREE!
This amazing bonus will help you document your project's selections like a professional — and tell your builder EXACTLY how to meet your design goals!
We will cover as many of these items as we can in a day. But you will be asked to pick your top four priorities when booking. 
☑ 9.00am – Meet, review & solve planning issues
☑ 10:30am – Design Focus Options:
❏ Tile Shopping (Floor and wall)
❏ Flooring coverings shopping (Timber flooring & carpet)
❏ Joinery Selections (Bench tops and cupboards)
❏ Tapware & Sanitary ware shopping
❏ Lighting shopping
❏ Appliance shopping
❏ Exterior Brick and colorbond® selections
❏ Paint colours
❏ Doors and hardware
☑ 3.30pm – Recap and help document
(30 minutes)
How much can we get done in a day?
It depends,  I have completed selections for an entire home with six!  bathrooms for one client and one bathroom in great detail for another.
 
If you aren't comfortable making decisions quickly and moving forward, then you will see better results if you select fewer design priorities from the list above or focus on one room in your home.   You can then book the service again for the next room when you are ready.
 
Or, if it all sounds too fast, enquire about engaging me for full service Interior design. 
Can you call back after the service with questions?
Sorry! The service is limited to one day only. If you are looking for ongoing support, consider engaging me for full service Interior design. 
Will I get any documentation of my selections sent after?
With your booking confirmation, we will email you Nadine's Design Organiser to help you organise your selections. You will be taking notes in this over the day.
Nadine will review the document with you at the end of the day to make sure everything is ready for you to move forward.
Helpful tip: Bring an iPad to photograph your selections and take regular notes into your Design Organiser over the course of the day.
Does this include lunch?
We will break for morning tea and lunch… our treat!
Can we do this on a weekend?
There is a good reason we don't offer this service on a weekend. The showrooms are just too busy and we want to ensure you get the best attention and the most out of your day with us.
"I booked in through Journey Home's website for a Day with a Designer. It was a very easy process. I then spent a fantastic day with Nadine going through different options for my home, visiting showrooms and finished with a written plan, so I know what to do. I am now confident that I can get quotes of the appropriate trades and I know what I want, which will save time and money on my build.
Thanks Journey Home for a great service that is going to make my renovation pop and look and feel timeless!"