If you're ready to plan your bathroom renovation, you're probably wondering where to start. There are so many details to define, tasks to action, and quotes to acquire. In my experience, most people will head straight to the builder first, which I can tell you, is skipping a few important bits.
Having designed and renovated several bathrooms over the years (including my own), I can tell you that the planning phase—before selecting materials or getting quotes—is one of the most important and most often overlooked.
Today, I'm going to take you through the five steps I suggest for planning a bathroom renovation, and in the order I recommend. As they say, "luck favours the prepared", and with these steps, you'll be as prepared and "lucky" as possible…and when it comes to an unpredictable renovation (which, they all are), that's important!
Step 1: Address Your Existing Bathroom's Flaws
The first step is to take inventory of what you like and dislike about your current bathroom. These observations will help you set goals for any updates, amenities, or style you would like to achieve. Sounds simple, but this takes time.
I recommend spending at least a couple of weeks with a piece of paper and a pen in each room you would like to update. Write down your observations each day, and encourage anyone else in the home (like your spouse) to contribute their thoughts, too.
Once you have those observations listed, you can turn them into goals and action items. You will likely have quite a few, so I highly recommend prioritising them. Every project comes with its hard decisions and compromises, and being able to reference your priority list will make some of those tough decisions clearer.
Here's an example of the list my husband and I made before renovating our bathroom last year:
The toilet is getting problematic
The shower splashes water everywhere
The bathtub coating is peeling
The joinery is flaking
The windows are painted shut (clever perhaps, but not very practical)
It takes 3 minutes (and a heavy water bill) to get hot water to the tap
Here's what my bathroom looked like for many, many years. You can see why we wanted to renovate.
Step 2: Learn More About Your Options
The second aspect of goal-setting is to know the possibilities for your bathroom renovation. You can easily put "more storage" at the top of your list, but you also need to know what type of storage exists for bathrooms. You don't know what you don't know.
If you put "better lighting" and "more up-to-date colour", you should explore lighting and colour options, as well. Whatever is on your list, poke at the topic to see what comes up.
For inspiration, I love wandering through the images I've collected over the years (scanned from glossy magazines back in the day) or browsing new ones on Pinterest. Pinterest is probably my favourite hobby ever — and I highly recommend it for you, too. It gives you the ability to search for and organise inspirational images.
I'm a gold person and knew right away that gold-coloured metal finishes would be a high priority for me.
Step 3: Budget Your Bathroom Renovation Realistically
Okay, now you know which problems and aspirations you are aiming for. You have an idea for what is out there. Now, you need to get a handle on the financials, especially what you can expect to spend on classic style design in Canberra. Which of your goals fit into the overall budget and which don't?
This is usually where a line-by-line budgeting spreadsheet will come in handy, but to save you some time, I've created this bathroom renovation investment overview to help you understand how far three budget ranges can get you here in Canberra.
If you don't see your desired updates and features under your existing budget, consider saving up a bit more first OR working on your project in phases to make gradual progress. I won't hesitate to tell you that my husband and I saved up for 10 years before finally creating the bathroom we had been imagining. It's okay. There is no wrong choice.
(Need help understanding what your budget can get you in the NSW? Reach out to me here for a quick chat, and I'd be happy to point you in the right direction.)
Step 4: Create Your Floor Plan
Next comes the floor plan. Wait, we haven't even chosen our tiles yet! Nope. The floor plan comes first. You do not want to make any materials selections or joinery purchases before the room's ideal layout is settled. If it changes later, all of a sudden you ordered way too many tiles… or worse, not enough.
Here are some questions to ask yourself:
Do the existing plumbing locations work for you or not?
Would a sliding door make more room for you?
How do you feel about the shower?
Sketch out some ideal bathroom floor plans (here's mine, if you need some guidance), and weigh the pros and cons of each. Remember, the more that changes from your existing floor plan, the greater the overall investment. And the greater the transformation, too.
Our final two floor plan options, with and without a bath, with and without moving plumbing. Can you guess which one we chose?
Step 5: Get in the Queue for Builder and Joiner Quotes
I used to advise clients to select their materials before going to builders for quotes, and in theory, this is still true. However, due to the pandemic, there are long wait lists, not just for the builders' and joiners' time for your project, but even for getting quotes!
So grab your spot in line, and then move on to Step 6. (Read here for more insights into how long a bathroom renovation takes.)
Step 6: Use My Design Organiser to Select Your Materials
This is another mistake I see made ALL the time. Homeowners approach builders for a quote without having any materials selected. I can tell you from many years of experience — your builder and joiner cannot give you accurate quotes without knowing what they are moving/installing in your bathroom.
This includes the type of materials, their finish, their dimensions, how much of them, etc. It's a lot of detail, but it is essential to getting a quote you can count on. Otherwise, the number your builder gives you could change drastically in the middle of your project, potentially stalling your renovation. (Let's hope they haven't removed the toilet yet, right?)
There are more than 100 decisions to make in a bathroom renovation, and my Design Organiser helps walk you through each of them AND gives you an organised way to present them to your builder. This means accurate quotes and clearer communication of what you want…which is always to your advantage.
Read here for How to Make Smart Decisions with my Design Organiser and see a sample below:
Step 7: Hire the Experts You Need
The next step is to hire the experts you need to carry out your bathroom design. If you still need help planning your bathroom renovation at this point, I highly recommend booking a chat with us to see how we can help. Depending on your situation, we have a couple services that can leap-frog you ahead to where you need to be if a builder is asking you for decisions.
You'll also need a builder you trust, along with his/her recommendations for other experts who may be involved in your project: joiner, painter, window installer, etc.
NOTE: It is important to book your desired professionals in advance. Many will have a waiting list that can span multiple weeks to several months. When you enlist their services, you will have a future start date that coordinates with their calendars AND with your ability to procure the materials they need. Which brings me to…
Step 8: Order Your Materials
Especially with the supply chain issues going on right now (2022), ordering your materials early is essential. You will want all (or most) of your materials ready to go before any tradesmen show up to your house to start demolitioning your bathroom.
For example, my smart builder resisted taking down the window until we had the new one ready to go. This meant that we didn't have a gaping hole in a bathroom in the dead of winter—which you can imagine we were very thankful for. Most quality builders will advise you on what can be done and which materials will be needed first.
P.S. Prepare for your home to become a temporary storage ground!
Step 9: Construction & Installation
The final step is construction, which fortunately, you don't have to do! If you have hired the right team, they will take it from here, creating the space you have so carefully dreamed up and designed. The going may get tough (here's how my bathroom construction process went) and it may take time, but the results will be well worth your efforts.
To show you the possibilities, here's a peek at how my own bathroom shaped up: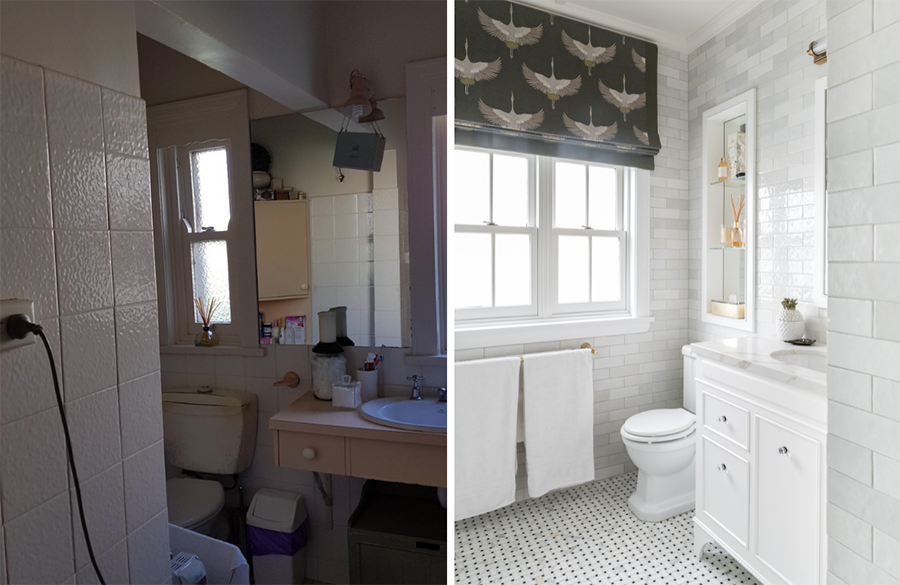 Before & After: My 1930s Bathroom Renovation in Canberra
Before & After: My 1930s Bathroom Renovation in Canberra
9 steps is quite a lot, especially when 8 of them consist of planning, but they are all essential to the journey of renovating a bathroom. I know that it can be a lot for most people to tackle on their own, so I want you to know that we are here to support you.
Whether you need a little help or guidance or a big hand in managing your bathroom renovation, we have a service for that and we're the best at it.
Reach out to us here to discuss your project, and we will happily point you in the right direction, ues, even if that means pointing you to someone else. We genuinely care about making sure you get the home you desire and deserve.
So give us a call or book a chat, and let's see what we can do for you.
Warmly,
Nadine
This is blog 8 of 8 in the Bathroom Renovation series. Click below to navigate through the series.