Here's the big question we're asking this fortnight: How do you plan the design for a bathroom renovation? Answer? Thoughtfully.
I am currently doing my bathroom up, and — no surprises here — I've had to do exactly what I always suggest to our clients. First, you get inspired. Then you make a plan. Then you make your selections.
Today I want to share some insight and inspiration for the first two on that list. Making a plan really is the MOST important step to getting your best final result — the home that will make you proud and help you live beautifully.
Here's what you need to know…
Reasons for a Bathroom Renovation
First, there are many reasons to renovate a bathroom. Maybe it's not serving you well from a functional standpoint. Or maybe the look is getting dated and you are ready for something that feels fresh and timeless, so you'll love it down the track.
If you're wavering on the idea, here's how my husband and I decided the time was right…
For us, our 1930s bungalow is getting on in its years, but the bathroom has lasted since the early 70s, or possibly late 60s. If you have a bathroom that was built around that time, you might be experiencing exactly what we are:
The toilet is getting problematic (fact)
The shower splashes water everywhere
The bathtub coating is peeling
The joinery is flaking (ugh)
The windows are painted shut (clever perhaps, but not very practical)
It takes 3 minutes (and a heavy water bill) to get hot water to the tap
Looking at these problems, it's rather a miracle we're only starting this project now! But late is better than never, as I always say, and we wanted to wait until we were ready to make it a cohesive part of our forever home. Not something thrown together in a pinch.
Which brings me to… planning your renovation.
Inspiration for my forever bathroom… classic, elegant and a dream! (source)
Step 1. Understand the Timing of a Bathroom Renovation
Okay, Step 1 is admittedly less of a step and more of something everyone needs to know before renovating. Here's the big secret that surprises most people the first time…
Your builder should have your choice of selections BEFORE they quote or start a job! 
Yes, that means you need to know your materials in advance. For example, what benchtop material is going in, what size, what joinery, which hardware, which tiles, how many? And that's just the tip of the iceberg.
There are more than 100 decisions to make in a bathroom renovationl. Having your selections and a project schedule before you talk to a builder will help them give you apples for apples quotations. And yes, you definitely want apples for apples quotations. I don't know any homeowner who likes surprises.
P.s. Chances are you haven't done this before you engaged your builder, so he will be needing decisions pronto. Our Designer for a Day service and Design Organiser will catch you up and make big strides forward.
Grab our Design Organiser here!
Step 2. Get Inspired for Your Bathroom Design
Would you believe that I have been carrying a tile sample around for 5 years? I first saw it during my trip to the Boston Design Centre. I scooped it up on the spot, and it hasn't left my mind or collection since.
My dream tile in the Boston Design Centre
A great design starts with inspiration. Eventually, yes, you'll get down to the details, but if you don't know what you love, what inspires you, and the type of design elements you want to live in your forever home, you'll have a difficult time making decisions.
You're probably not surprised to hear that I've been getting inspired for this bathroom renovation for years! Even during my free hours, I love wandering through the images I've collected over the years (scanned from glossy magazines back in the day) or browsing new ones on Pinterest.
I have to say, Pinterest is probably my favourite hobby ever — and I highly recommend it for you, too! Have you tried using it yet? It can be tricky to get started, but once you get the hang of it, you'll have the ability to organise inspirational images, look for design themes, and really understand your aesthetic. Give it a whirl!
P.s. When you book with us, we teach you how to make your own Pinterest vision board. You can see my bathroom inspiration board here!
Loving the warm white subway tile in this classic 1920s bathroom. (source)
Step 3. Create a Floor Plan for Your Bathroom Renovation
The floor plan comes first. I repeat — the floor plan comes first! Trust me, you do not want to make any materials selections or joinery purchases before the room's ideal layout is settled.
I suggest that you consider…
Do the existing plumbing locations work for you or not? It's a big factor in cost, but if you find the plumbing locations bothersome, then in the grand scheme of things, it is probably worth changing it around. (It's your forever home!)
Would a sliding door make more room for you? Changing the doorway can make a huge difference in the space available to you in your bathroom — and therefore how you layout that space. In a recent project we installed a new internal wall to accommodate a cavity sliding door, and our clients love it!
How do you feel about the shower? Although the bathtub is a dominant form in the room these days, the shower needs considerable thought. After all, it's the thing we experience daily. I suggest making the shower cubicle the right size and location, and then spend time looking at shower heads.
Note on finding shower heads in Canberra: Selecting shower heads is tricky, because the stores only have a few working models on display, if any. Reece Plumbing has quite a few that you can actually turn on to test drive. Sadly, I haven't seen any classic style show heads on the test drive displays (though maybe this post will prompt the stores to include one… hint, hint!).
Generally the classic models don't have all the bells and whistles that the modern shower heads might, but at least they will still look great in 30 years.
Grab Your Design Project Planner
Cut through the fluff to discover what you REALLY want done around your home.
This planner helps you prioritise your goals and create an action plan to proceed with design confidence.
My New Bathroom Floor Plan, Options A and B
In every project, there is always a compromise or trade-off between options. For my own bathroom, I faced this with the floor plan. I had drawn two ideas to pursue and both had their pros and cons, which I'll share with you:
Options A (left) and B (right)
Part of an interior designer's job is to understand the realities of each option and be able to communicate and help you make informed decisions on many options. Here's what this looked like for us:
OPTION A
The cheaper option to keep the plumbing where it is and simply flip the bathtub direction.
PROS of Option A:
Cheaper and faster to leave the plumbing fixtures in the same spot
Would have both a bathtub and a shower
Shower over bath offers a 1930s look and feel
CONS of Option A:
Must step over bath to use a shower (which may be bad if we get old or injured)
The shower is not completely screened (I like a closed shower cubicle — it's warmer)
The vanity mirror is not above the basin. We are currently used to it but from a design angle it does my head in.
OPTION B
Create a walk-in shower where the current cubicle is and move the toilet and vanity basin to where the bathtub is now.
PROS of Option B
Shower will be a walk-in shower which is great for everyday use
Toilet will be next to window — good for ventilation (this is real life, people!)
Room for a decorative or storage niche above the toilet
Vanity will have a mirror shaving cabinet aligned in a pleasing symmetrical style
Towel rack handy to shower
CONS of Option B
Moving plumbing more expensive
We will not have a bathtub until we can put one into an extension ensuite.
Frankly, we are still deciding which to choose, as it's not an easy decision. (I know how you feel!) But being stuck in contemplation certainly hasn't stopped me from at least preparing the next step… materials selections!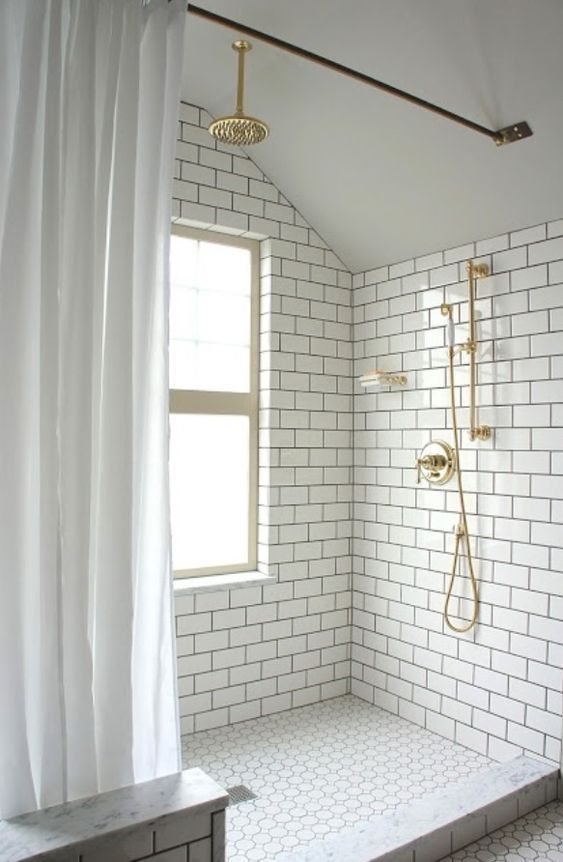 No doubt about it — white and gold are a classic combination. (source)
Step 4. Be Self-Aware & Confident
Surprising step for a home renovation, but here's why these two are important. With designing or decorating a space comes a bit of self-awareness. I've realised that I am very conservative with my home, as resale is very much a factor for me. I've also been feeling the pressure as a designer to use amazing expensive products that get published, but I find myself resisting that. I want to love my space.
When designing your forever home, you may experience some pressure, too. You may have an aunt who dislikes your choices. A neighbour with an opinion. Or maybe your husband, the one who gave you free design rein to do as you please, suddenly has a preference after the fact. Hint: It's not what you picked. (Been there.)
When you design your forever home, even if you are conscious of the resale factor, it should make YOU happy. Not the design "experts." Not your neighbour down the street. Just you and the people who call it home. (I have some more advice for you on navigating the husband scenario here. If it hasn't happened yet, it very well might!)
Step 5. Make Your Design Selections
By now, you are ready to make your design selections. This is the step that I highly, highly recommend using my Design Organiser for. The Design Organiser includes the exact worksheets that I use to select and document our design choices (sometimes hundreds of them) for our clients' homes.
You can use these sheets to compare options, create a holistic design, and make the best decisions for your space. These can then be presented directly to your builder, so you can get accurate quotes and clearly communicate what the final design should look like!
Here are some other thoughts to consider when selecting certain materials…
Tile & Stone Selection
From a style perspective, most people fall into the category of either looking for a stone look bathroom or opting for coloured tiles. Perhaps this decision is budget-driven, if you feel that you can't afford authentic stone finishes. In this case, many clients opt for porcelain tiles in a colour theme. These days there are also a lot of realistic faux stone finish tiles that look great.
In other words, if you desire a certain look, there's usually a way to make it happen! I suggest looking around at local vendors to find some options that suit you and your space.
From my Bathroom Inspiration Pinterest board! (source)
Colour Choices
Colour is definitely making a comeback, which is a joy to see. If you are going to use colour, please remember that it should have some connection back to the decorating in your home. On a recent Designer for a Day booking, we photographed the curtains in the main bedroom to pick out the right green for tile selection in the ensuite bathroom. That's how to create a holistic design for your forever home!
Some sneaky areas you will want to consider for colour will be your window frame, your joinery, joinery hardware, plumbing and grout.
My Bathroom Selections
After much inspiration gathering and both internal and external reflection, I have settled on my final selections. I should say "our" selections, as my husband will also be using this bathroom, but remember that free rein scenario I just mentioned? Well, we're giving it a solid try.
So, what did I pick?
Basket Weave Tile Floor
Confession: I have wanted a bathroom with a marble basketweave floor for my whole adult life. My home is a 1930s heritage gem, and I want to respect that, so regardless of whether basketweave has been in fashion for the last few years, it is a timeless and 1930s-appropriate choice.
More importantly, I can't wait to see it on my floor! The little tiles are such a treat and so nice to walk on.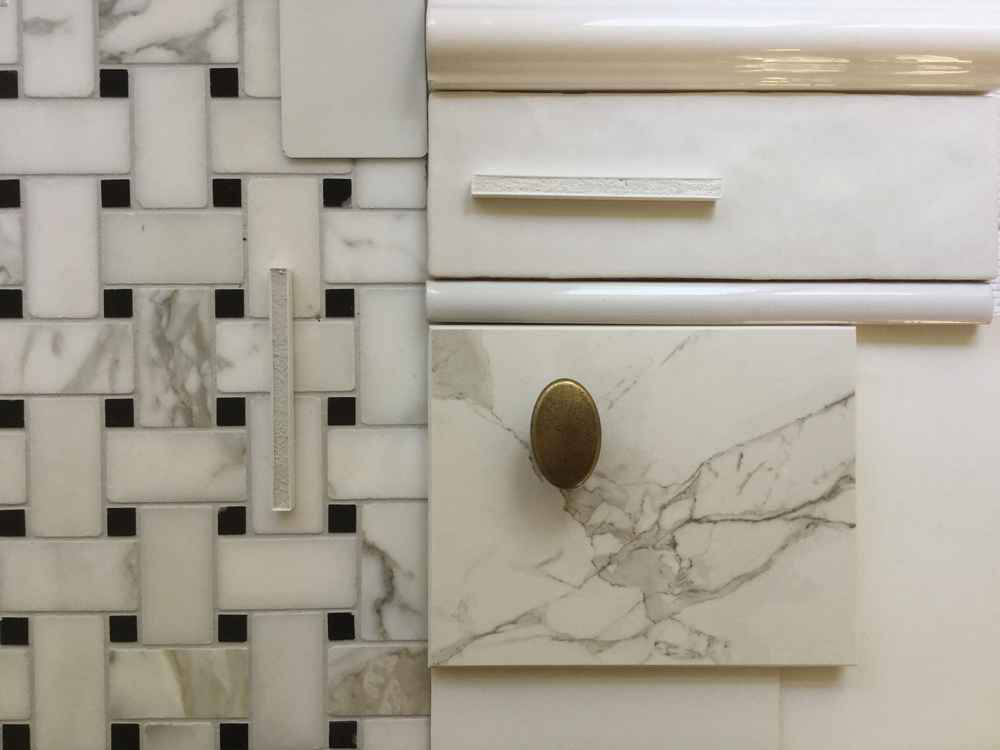 The Perfect Warm White Wall Tile
For the wall tile, you remember that tile I fell in love with at Boston Design Centre? Well, it has taken the Australian tile market a while to catch up, but at last, I have found a perfect substitute. It is the perfect warm white, not too cream, grey or eggshell. By now, you're probably thinking "white is white", but which white is very important.
As luck would have it, subway tile with white grout is also very appropriate for a 1930s home.
(source)
As a bonus, these beauties are hand-glazed from Spain, which should delight my Spanish husband. See? We wives can be stylish and thoughtful. 😉
Bench Top and Stone Trim…
…but you'll have to wait for those selections in my next bathroom update post!
So, you are officially up to speed on all that we have in motion so far. You'll just have to wait and see what happens as this project continues. 😉 In the meantime, be sure to download our Guide to Selecting Design Materials with Confidence  — there are even more great tips and step-by-step instructions in there, so be sure to get your hands on it.
Or, if you're already past the budgeting phase and want some hands-on assistance with planning and selections, our Designer for a Day service was created just for you.
To you & your forever home,
Nadine
This is blog 1 of 8 in the Bathroom Renovation series. Click below to navigate through the series.