It's finally here — the reveal of my newly renovated and classic 1930s bathroom in all its glory! This renovation took loads of time dreaming, planning (I used my Design Organiser), many months to build it and questions along the way. It took quite a big expense and, of course, patience.
The result? Worth every dollar, minute, and frigid outdoor trek to the shower in our laundry room. I absolutely love it! Okay, and so does my husband. Yes, his happiness is important, too.
And what about yours? I think you have waited long enough. Don't just stand there on the steps… Come on in!
 Before & After: From the entry. So much better, right?? It's bright, open, and has classic yet fresh details that thrill me!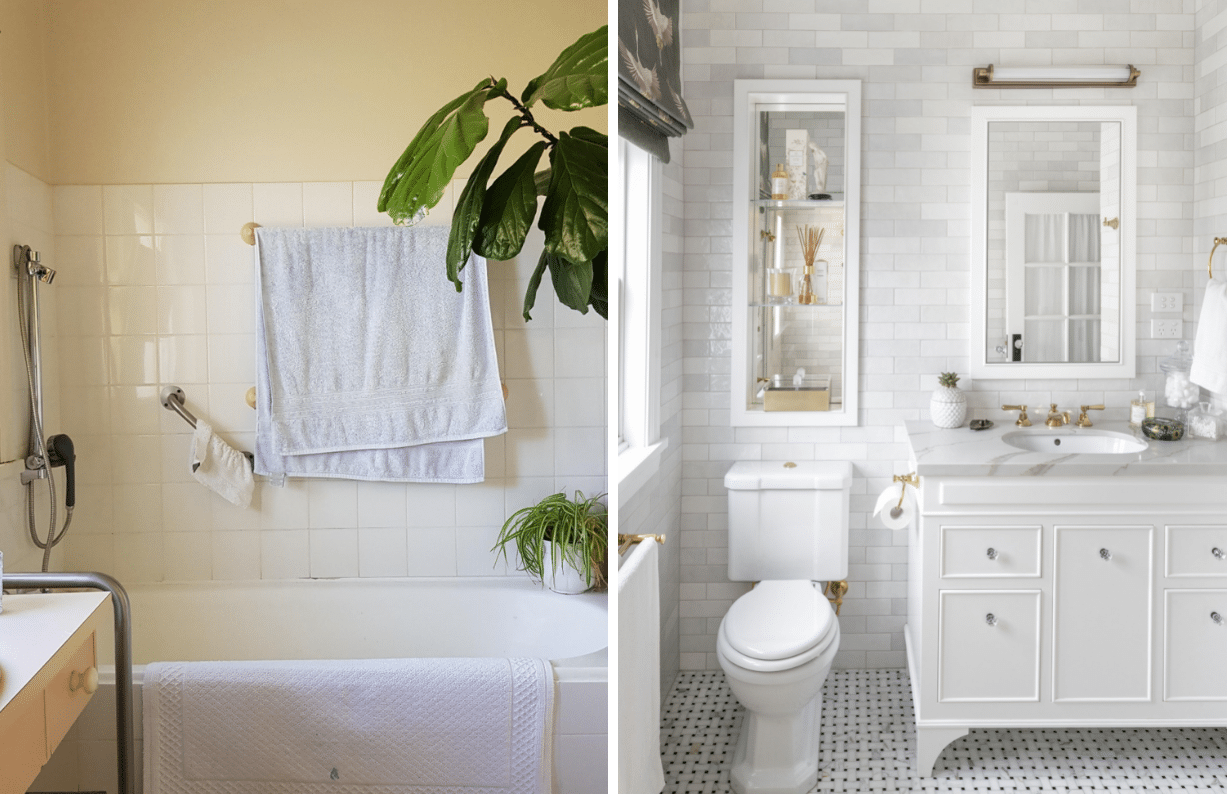 Before & After: Tub removed, Frank the Fiddle Leaf relocated, and floor plan flipped. Just wait until you see the shower opposite this scene! (More on my floor plan choices here.)
Splurges: Thumbs up & Thumbs Down Report
Now, there were a lot of splurges in this bathroom. From a cost perspective, you are looking at 30% over a quality, high-end bathroom I've completed for clients. Pinterest-worthy features, built infrequently or never here in Canberra, can be impossible to quote and tough on the pocket. But it was an opportunity to flex design muscles, and we had saved up 10 years for this project, so I chose to commit to the design. So there you go.
*Please note this isn't a boast fest. Just being honest. Remember, we lived with the old bathroom for nearly 10 years!
So, which splurges were worth it and which weren't?
Splurges that were worth it…
1. Cutting up the floor to install drainage and move the floor plan around
I never really saw a definitive figure of what that would actually cost in the scheme of things, but it wasn't cheap and it took a lot of time to achieve — and it was all worth it. Here's how it looks now…
Before & After
This bathroom layout really works. I can't emphasise enough how getting the floor plan or furniture plan right to begin with is a fundamental and vital step in any design or decorating project. Perhaps investing in and having faith in a design is the point here. When you have a solid foundation, you can trust that everything will work out.
2. Installing underfloor heating
Here's another splurge that is completely invisible design-wise, but is absolute BLISS!! What else can I say? Get it! You won't be sorry.
3. Curved tile shower ceiling
Worth it, worth it, worth it. It's a dream to stand under the curved tile ceiling. I will warn you that in cold weather, you will get some condensation drips, but it's much better than all that steam absorbing into your plaster ceiling. (And growing mold…)
4. Floor tile and stone architraves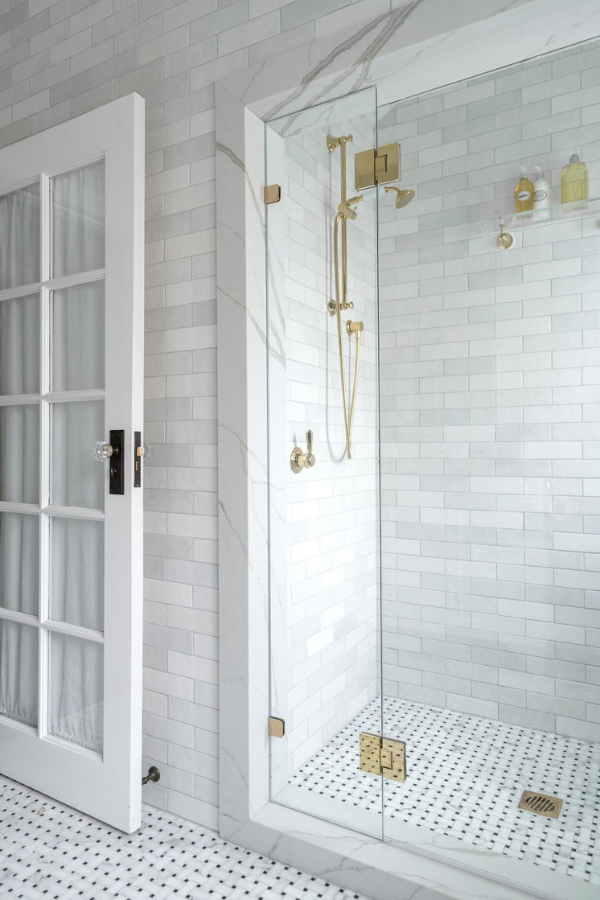 This basketweave tile was my dream floor tile for 20 years, and it doesn't disappoint. Whatever mood I am in, I am jolted out of it when I enter the bathroom and see these beauties. The stone architraves around the shower door and shower window are equally stunning and pair beautifully with the tiles. I just can't see how to do it any other way, those modern metal strips are ghastly. This was one of those non standard features never built before.
5. Custom blinds
Did you notice my blinds? You probably know by now that we do supply blinds to clients, but it's not every day that you get to a fancy blind with embroidered fabric, 3-sided band, and double fold at the base.
Considering we used to trudge through the great outdoors (our backyard) to our laundry room shower in the dead of winter, I think we deserved to spoil ourselves. And by "ourselves", I mean me. 😉
Grab Your Design Project Planner
Cut through the fluff to discover what you REALLY want done around your home.
This planner helps you prioritise your goals and create an action plan to proceed with design confidence.
Splurges that were NOT worth it…
1. Gold-coloured finishes
In my opinion people are either silver or gold people. It's one of my briefing questions, or I notice their jewellery. I am personally a gold girl, BUT it was a struggle to get everything to match. To be honest, I probably would have been as happy with chrome given the extra expense. For example, I spent $400 on a gold cistern tap, plus the cost of the gold pipe.
Yet, if you look closely, the toilet, which came from the same supplier, did not come with gold buttons and hinges as expected, even though the brand specialises in offering 40" finishes across ALL its architectural fittings". Tut tut… not happy, Jan. Since living with it a few months, I barely notice it any more, but I was very angry at the time.
Splurges yet to convince me…
1. Extremely special joinery
Yes, I notice and appreciate it every day, but no one else seems to notice how special that joinery is. This indicates to me that it's not something that adds resale value to our home. If you can get the overall effect looking great, that's enough for resale.  Would I do it again?  For me, yes. I'd definitely draft and cost it for my kitchen or for a client that wants a truly authentic Hamptons furniture style joinery and is willing to pay the premium.
2. New windows
I am really happy with the feel and look of the new windows, as we endure winter months I am seeing the benefit of the double glazing. Noting that these windows didn't come with those hideous, enormous hardware that makes it hard to install blinds… I feel grateful. As a supplier of blinds, and lover of traditional that is important to me.
3. Hand-painted wall tiles
In percentage terms, they didn't add much to the cost of the bathroom compared to simple white subway tiles, but a few thousand dollars is an opportunity to save if your budget is tight. I probably would have been as happy with plain white subway tiles. Given the batch variation, I didn't really get the warm white effect I had hoped. However, I have noticed the lovely shine on the tiles often, so they do add joy to the room.
More Happy Little Consequences
The vanity area is one of my favorite upgrades. (Remember the old one?) The shape of the basin really pleases me. There are ample robe hooks and power points. And I do love having a shaving cabinet mirror. I've never actually lived with one myself before, and it is highly convenient.  I culled our bathroom contents before demolition, I don't miss any of that stuff and there is so much storage we even have empty drawers for guests.
Less visible improvements to our daily lives — how quickly the room vents. Wow. I can also reach the toilet paper drawer now without leaving the toilet. Small miracles.
Last but not least, it is just so comfortable. Who could ever have thought a bathroom would be considered a comfortable place? Not me. But it is! We start and finish our days with feelings of peace, cleanliness, and health.
I also look for excuses to use our new bathroom as much as possible, which has naturally inspired a new flossing routine and skincare regimen. It sounds little, but all these little actions and feelings add up to a happier daily routine and a sense of calm in our lives. Proof (just in case I needed it) that design goes so much deeper than aesthetics.
Looking to start your own renovation? I would love to help you create the forever home you deserve. Take a peek at our services here to find the right match for you, or book a 15-minute chat with me here.
Until next time…
Nadine
This is blog 5 of 8 in the Bathroom Renovation series. Click below to navigate through the series.