Over the years, clients in affluent suburbs such as Forrest or Yarralumla have often expressed their frustration of being quoted high prices for home renovations — "postcode tax", to give it a name. In fact, it's not even limited to affluent suburbs. I've thought it myself of Reid, and there is evidence that we pay more in Canberra, too.
My guess is that there will be times when you aren't imagining it, but my experience (on the other side of the curtain) has been that we have a tendency to underestimate how long things take or cost. When our expectations are low, the reality can come as quite a shock.
For this reason, I like to start all relationships with clarity around budget, scope and costs. Today, let's bridge the gap between expectation and reality, by talking about:
What that "postcode tax" might actually be getting you
How to estimate your own renovation investment
1. Are you investing in experience?
When you hire a professional for a renovation, you are going to want someone who has done it before. An experienced builder who knows the extent of what is really required is naturally going to charge more.
That said, how do you know if the professional you're hiring is experienced? See how long they have been in the industry, take a look at their portfolio, and read some client reviews. When it comes to your home, you really do want the best.
A higher quote that is tied to greater experience is actually a smarter investment overall. You will reap the benefits of a job that's done as properly and efficiently as possible… and in long-term home value.
2. Are you investing in luxury?
You might assume that "luxury" only applies to the furnishings you bring into your renovated home, but furnishings are the frosting on the cake. The home itself — from the flooring and architraves to benchtops and joinery — can be made from materials at various levels of quality.
However, it's not just the cost of those materials that needs to be considered. The cost of labor will also fluctuate based on these materials. The more luxurious a material, or difficult to install, the higher your builder's quote will be.
This is precisely why I suggest using our Build Project Design Organiser to select your materials before meeting with your builder. It's the best way to get accurate quotes before your project begins. (P.S. You can also find all of the selections I made for my bathroom renovation in there!)
3. Are you investing in your lifestyle?
I am a numbers gal (Accounting degree and all) with a flair for design, so I like to collect the numbers of what things cost, to buy and build, and keep these numbers in my memory bank. They come in so handy for design strategy sessions, but I've learned over the years to always treat budgets and cost as neutral.
What does that mean? Well, it means that I don't attach any particular emotion to various budget levels. It's not for me to decide what my clients can afford or not, so I will never refrain from offering perfect solutions that may cost more, as well as the option that keeps to budget.
Of course, the final choice is always yours, but I believe in letting you view all the options — you never know which will contribute so much to your life and lifestyle that it feels worth the investment for you.
For example, when on my Contiki trip in '94, trying to photograph lovely houses from Rhine, I'd wished the guy at Canon who sold my camera to me had upsold me on the zoom function…. for my own good! See what I mean?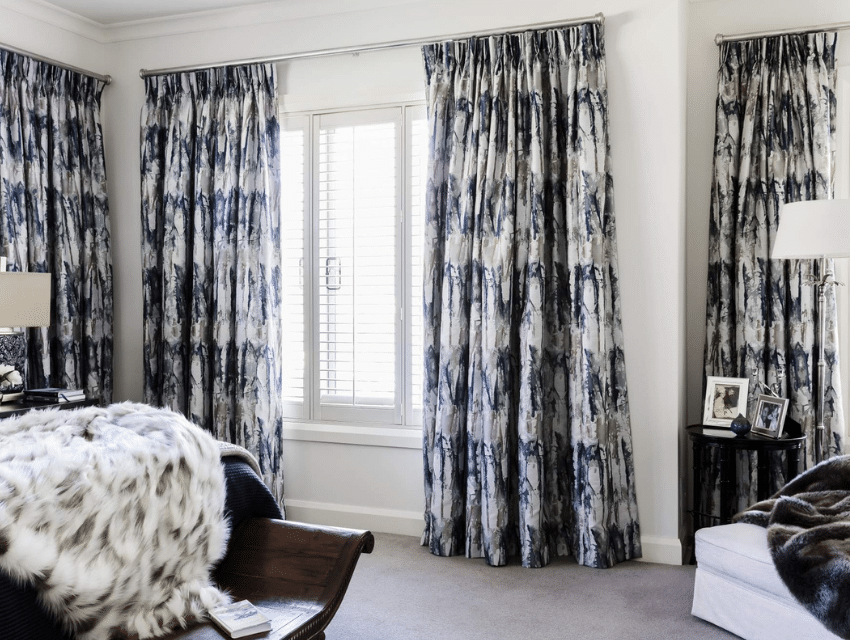 Our clients were originally apprehensive about the cost of these luxurious custom curtains. Now, it's their favourite feature in the room! …and they have thanked me more than once for urging them in this direction. 😉
How to Estimate Your Renovation Investment
Tip 1: Estimate with a Renovation Calculator
One tip I can offer you to help estimate your home renovation project is to look for those renovation calculators that you see at the bottom of home listings on realestate.com.au. Now, load it by at least 10% for Canberra.
The resulting number is going to be on the low side of the luxury end of the scale.  In fact, if you like nice things (which I suspect you do because you are reading this blog and might be following my lovely images on social), then completely disregard the lower end option. I am confident that you don't want what is offered at the lower budget.
Tip 2: Look for Listed Rates for Services
To do our part to ease the worry of postcode tax and offer clarity around design quotes, we publish fees directly on our website for our Furniture Layout & Design Goals service, and our Decorate in Stages services. These all have fixed scope, which means the investment does not change according to your suburb.
Our Custom Decorating service (100% done for you from start to finish) is also a set fee of $5500 per room unless you want to make any additions to the scope of the project, which you are absolutely welcome to do.
After many years of custom decorating for clients, I know how long it takes to get my clients to the point of a fully costed design that's ready to press go on… and then how long it takes to do the leg work and make a fully furnished room happen. Not only does this mean highly accurate quotes that won't fluctuate based on postcode tax, but I am able to use this custom service as a model for the other services!
I have calculated our fixed price service fees based on this information, so I'm confident that it's fair and comprehensive — no "postcode tax" needed!
Tip 3: Use Our Budgeting Guide
For the purchasing side of decorating, I have taken the time to add up past project costs and created a Guide to Budgeting for Classic Style Furnishings for whole rooms at a quality standard. It's very insightful, so I recommend you take a looksie if you are even thinking about decorating. 
What do Classic decor and furnishings really cost?
Get our free expert guide!
Realistically plan for your next decorating project with our free guide to home furnishings budgeting worksheet!
With my tip about the renovation calculators above, some flat rates for various services, and my decorating budget guide, you can now pull together a ballpark estimate for your entire  project!
If you are stuck or too busy, don't worry we also have a Design Strategy service. We will meet and figure it all out for you, as well as help you decide what projects you should and shouldn't do, and where to start.
Last but not least, you're always welcome to book a 15-minute chat with me, and I'd be happy to point you in the right direction.
Warmly,
Nadine