Signature 4 Stage Decorating
Your most beautiful journey home,

at your pace
You know what you want — a classic, elegant home that makes your heart smile every day. But getting there? Well, it feels like climbing a mountain!
We hear you, my friend. Addressing every aspect of your space can be overwhelming and too large of a single investment to get the quality you want and deserve.
That's why we created our Signature 4 Stage Decorating services. You have the flexibility to begin at the Stage that's right for you, invest exactly how much you want to, and journey toward your forever home at your pace.
The 4 stages of decorating your forever home:
You'll love your destination, but your journey will be pretty spectacular, too!
Stage 1 Now Available Via Zoom
Stage 1:


Plan – Furniture Layout & Style Goals
If you've been struggling with where to place your furniture or unsure what size furniture to buy you aren't alone.  
Creating a master plan to identify the best furniture layout for your space and your style is the first thing you should do when decorating. Let's do this step together to avoid expensive furniture purchasing mistakes that don't fit your room or lifestyle. We'll even figure out where to place your own furniture in awkwardly shaped rooms.
Furniture Arranging Made Easy
Download your Guide on the Top 3 Things You Need To Know When Creating a Furniture Layout Around The Home For Function & Beauty
This Service Is For You If:
You're frustrated by a difficult room shape and moving furniture around hasn't helped
You need clarity on placement and sizing before making big ticket furniture purchases
You're unsure what furniture to keep and what to discard – Perfect for downsizers.
What We Do:
Discover your functional needs for the space
Refine your style goals into a design direction
Help you decide which furniture you will keep for the final design
Create your room's optimal furnishing arrangement for your lifestyle
In-person clients will have their room and furniture measured during the consultation.
Online clients will receive instruction on how to measure their room and existing furniture like a pro
What You Receive:
Instructions for creating a vision board
Online clients will receive instructions for measuring your room and furniture
90 minute Interior Design consultation, either in-person or via zoom
A highly functional and personal scale plan that solves your furniture placement issues
A list of furniture size buying guides to fit your unique furniture plan
The designer makes a video of your project to guide you through your furniture plan and style goals.
Pricing:
Only $1,500
in-person for 1-3 rooms, Canberra Only
Book Online and Save
Do you live in Sydney or Melbourne? We can still help you.
Provide your room and furniture measurements, and have the consultation online to save $500.
How You'll Feel:
Experience the mental bliss of a layout that works for your ideal lifestyle
Feel the relief of making long-pondered decisions to keep or let go of existing furniture
Avoid the stress of overspending on new furniture that won't fit
Get the confidence to finally move toward a forever home you'll love
Online consultations work. If you are not satisfied at the end of the online consultation, I offer a 100% money-back guarantee.
Stage 2:


Infrastructure – Flooring, Paint & Window Treatments

The second stage of your journey home includes selecting and installing flooring, paint colours, and window furnishings that speak best to your aesthetic and functional goals.

This stage can be the most expensive and intrusive part of your journey (flooring is rarely limited to one room), but rest assured — we'll outfit you with expert advice, and you can take all your installations at your own pace!
This service is for you if:
Your home has good bones and only needs a cosmetic update
You already have furniture or not ready to buy it yet
You need a professional colour palette and paint selections
You want help from an expert who has your best interests at heart
What we do: 
Refine your desired style, functionality, and budget
Measure for flooring
Window furnishing selections up to 4 rooms
Recommend flooring and research products on your behalf
Source materials and colour palette
Help you make the best decisions for you
Create your unique shopping list
What you receive:
In-home visit for style discovery and measurements
Consultation to present flooring recommendations, paint and window furnishing samples
Written report with your approved product selections and where to buy them
Paint colour documentation
Pricing:
$1,500
$1,000 service fee rebate if $20,000 or more in curtains/blinds are purchased through Journey Home
Inclusions:
Main flooring and carpet for homes up to 300m2 (excluding wet area renovation tile selection)
Window furnishing selections for up to 4 rooms, (open spaces count as 2 rooms)
Optional extras, can be purchased on booking:
Additional rooms or larger homes
Additional product selection advice (pendants, light switches, etc.)
Upholstery selections to compliment window treatments
How you'll feel:
You'll feel confident in your renovation and in creating your home's desired flow, excited to start bringing your aesthetic to life, and relieved at minimising the risk of expensive mistakes!
Stage 3:


Layer – Rugs & Furniture

Rugs and furniture are the next step in your forever home, and this is when your design really starts coming to life before your eyes. We'll help you find classic, elegant pieces online that look incredible together and make you feel alive.
This service is for you if:
You have already completed Stages 1-2 (on your own or with us) and are ready to start purchasing furniture
You want cohesive product selections with that classic look you love
You want help from an expert who has your best interests at heart
You prefer to work at your own pace
What we do: 
Refine your desired style, functionality, and budget
Create your room's mood board to help you visualise the selections
Comb through your favourite online stores and ours to find the best furnishings for your taste and lifestyle
Provide purchasing URLs for selected products (hello, easy shopping!)
Pricing:
$1,500 per room
Optional extras, $300
Pendant lighting
Lamps
Art
Fabric Selections
Extra Rooms
What you receive:
In-home visit for style discovery
Instructions for creating a vision board

Moodboard of your selections emailed to you

Report with product selections and links for guided online shopping
1 x item revision within 7 days
1 x 30 min post-design phone consultation to answer any questions
1 x 30 min phone consultation for additional help over the following two weeks.
How you'll feel:
Confident in classic, quality selections that speak to your taste, minimize your risk of making expensive mistakes, and create the forever space you can proudly call home!
Stage 4: Style


Art & Accessories

Welcome to the final destination in your journey — the finishing touches that elevate your space from well-designed to your unique, welcoming home. We want you to walk in and say, "I can't believe I get to live here."

You do, my friend. You absolutely do.

Quick Note: You will want to already have all your major furnishings, inplace prior to this stage. If you would like our team to do this for you, see All Stages Custom Decorating.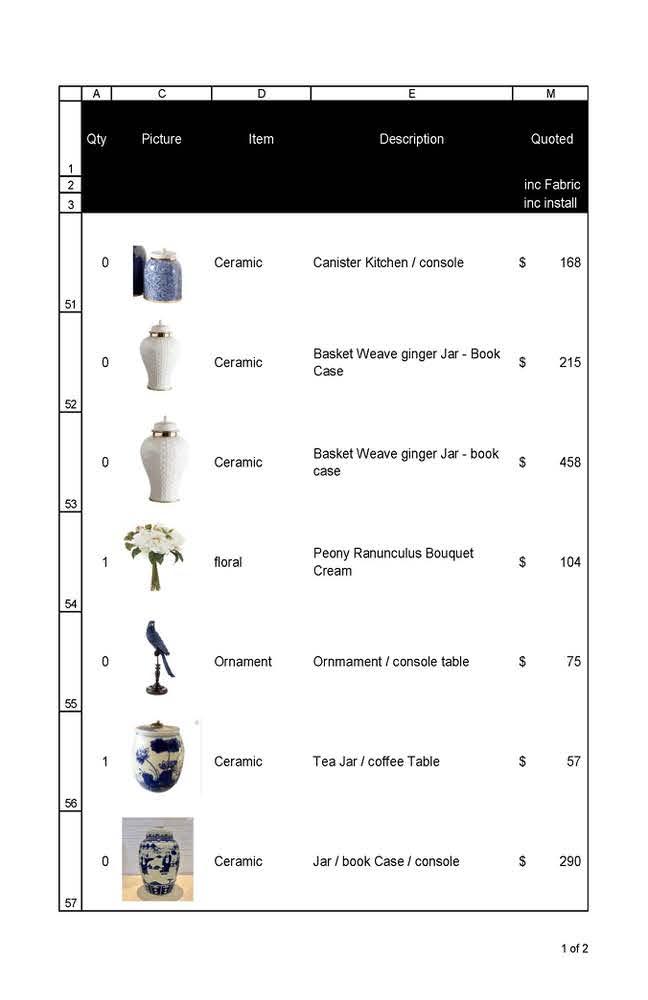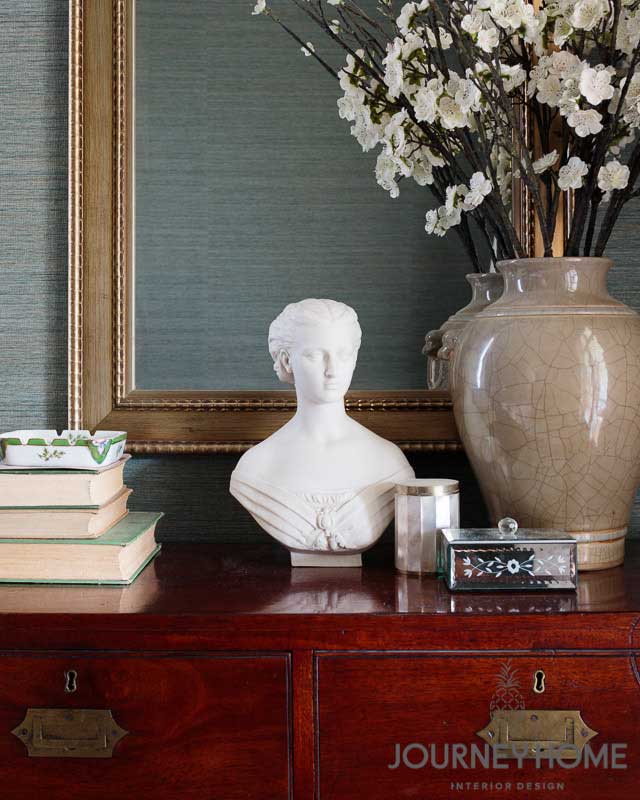 This service is for you if:
You have furniture and treasured collections but need help them to display them beautifully
You want some expertise for the finishing touches that make a classic, layered look
You want your forever house to finally feel like home
What we do:
In-home consultation to help you audit and arrange your existing accessories.
Shopping consultation for guided selections of finishing touch decor accent pieces across three categories; cushions, art, and accessories
Pricing:
$1,500 per room
$300 rebate on service fee if over $5,000 worth of accessories are purchased through Journey Home
Inclusions:
An open plan dining and living room will count as 1 room
Book cases up to 1.5 lineal metres wide.
Optional extras, can be purchased on booking:
Book case styling if you have more than 1.5 lineal metres of book cases / libraries or wall units.
What you receive:
Your treasures displayed professionally
In-home styling and accessories shopping consultation
Report of selections for items to complete your home