When I started in the interior design and decorating industry more than a decade ago, window treatments were one of the biggest learning curves for me. I had come from a furniture background, but I quickly realised that getting educated on window treatments was essential. (These days, as you'll see in this blog post… I can go on and on about them!)
Classic style and traditional design is rarer than you would think here in Australia. I've had more than a few clients tell me how much they dislike modern design. Even to this day, clients still tell me they find modern design cold, impersonal, and inhospitable.
Which is why, when decorating classic spaces, window treatments are SO important to creating comfort in your home. Whether the bones of your home originate from modern-style architecture or another genre (my husband and I continue to renovate our Spanish style 1930s bungalow in Canberra), window treatments are a MUST.
With careful consideration, window treatments can transform your design's outcome. They make a space feel more elegant, inviting, warm, and sophisticated. 
How can you do window treatments right? This week, I'm answering some of your most commonly asked questions:
How can you select the best window treatments for your home?
Where can you find quality window treatments?
What do window treatments cost?
How long should your curtains be?
How high should you mount your curtains, blinds or shades?
What do you need to know about care and cleaning?
Let's take a look…
Floor-to-ceiling curtains soften the look of these timber Venetian blinds.
How can you select the best window treatments for your home?
That is a big question and worth an entire blog post on its own. For now, I will say this: consider what you want and need from them. Insulation? Privacy? Light control? Beauty? Durability? All 5 of those things? (Yes, it's possible.)
As far as insulation goes, it gets cold in Canberra, and curtains and blinds DO make a huge difference. I mean huge.
But if you research which window treatments are best for insulation, you'll find that honeycomb blinds are the answer. However, if you want an elegant classic style home, these are not the best solution aesthetically, as they look more modern than anything.
What can you do? Well, curtains are also great insulators, especially the ones that a well-lined (not sheer). Or, you can go with those honeycomb blinds your husband swears you need and accompany them with a softer treatment, such as curtain or blind.
Seasonal tips: I don't suggest decorating with window treatments for the seasons. It is too expensive (and time-consuming) to be changing your window treatments every 3 months. Look at how the sun moves throughout the year and what you are doing or where you are in each room when considering treatments. Then decide which window treatments will serve your purposes.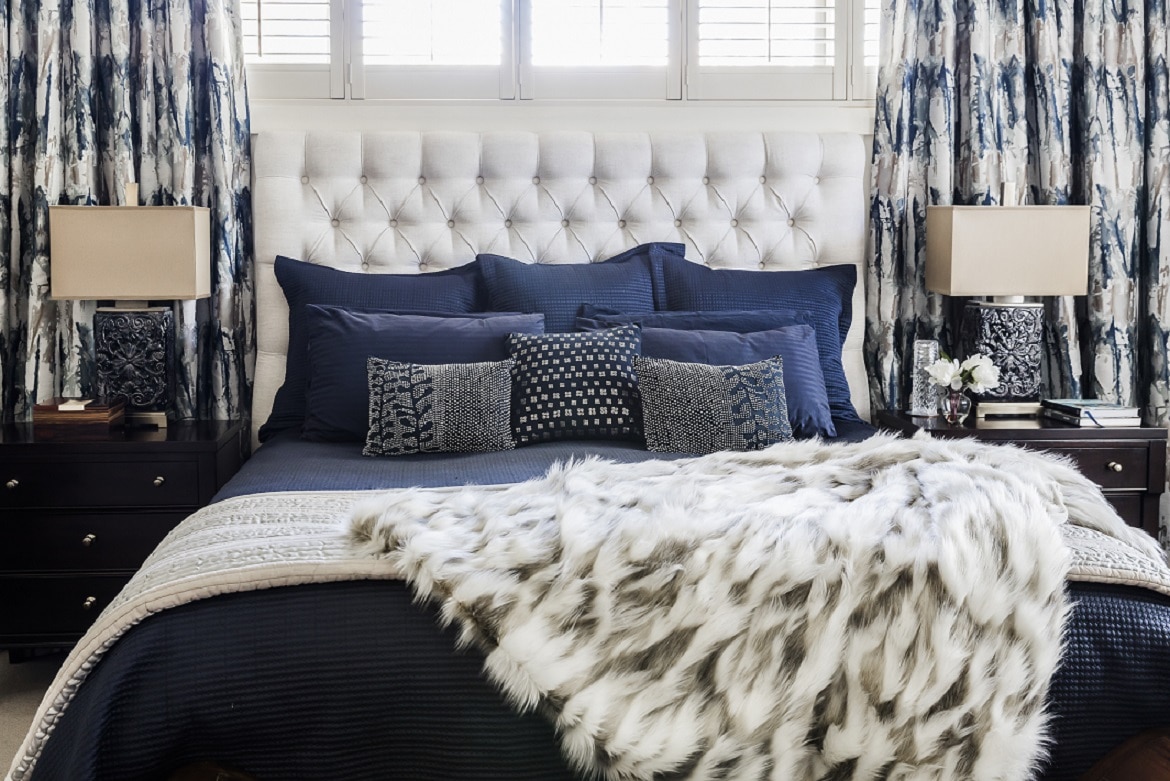 In this classic Master Bedroom in Deakin, we used drapery for light control, elegance, and (though you wouldn't know unless I told you) to make the window above the bed look centered. The perfect of example of how window treatments CAN solve design problems. 🙂
Where can you find quality window treatments?
Now, a bit of insight into the decorator's role in window treatments. I am often asked where I get them. If I'm being completely honest (we're close enough by now, right?), it's a bit annoying to be asked this question. There is a great little local business called Journey Home Interiors that would love your support!
Plus, the truth is there really is no answer to this question. I mean, which bit?
First, there is the designing part. I take the time to hunt for the perfect fabric and design the ideal solution for a client's space, needs, and lifestyle. Even when I know immediately what to do (thanks to a decade of experience), it can still take about 10 hours to work through a personal solution for a client.
Then, on the supply side of things, there is the check measure, the track maker, the sewing workroom, the freight, and the installer. None of these suppliers talk to each other, so someone (the royal we) has to coordinate it so that all the pieces mesh and come together.
We also attend and help install the window treatments, which helps with quality control… ensures that installers don't bump your expensive new furniture… and contains their mess to one area and makes them clean up as they go. (I bet you didn't realize ALL THAT was involved, right?)
You can quickly see that it's an elaborate process that requires management and not as easy as frequenting your local shops.
It's true that some decorators do work as specifiers, which means they help you pick the fabric and send you off to a curtain shop. But they also aren't going to be attending your install and doing quality control once you are handed to the store.
I don't do it this way, because I always want our clients to be thrilled with the final result! So… long answer to your short question. 🙂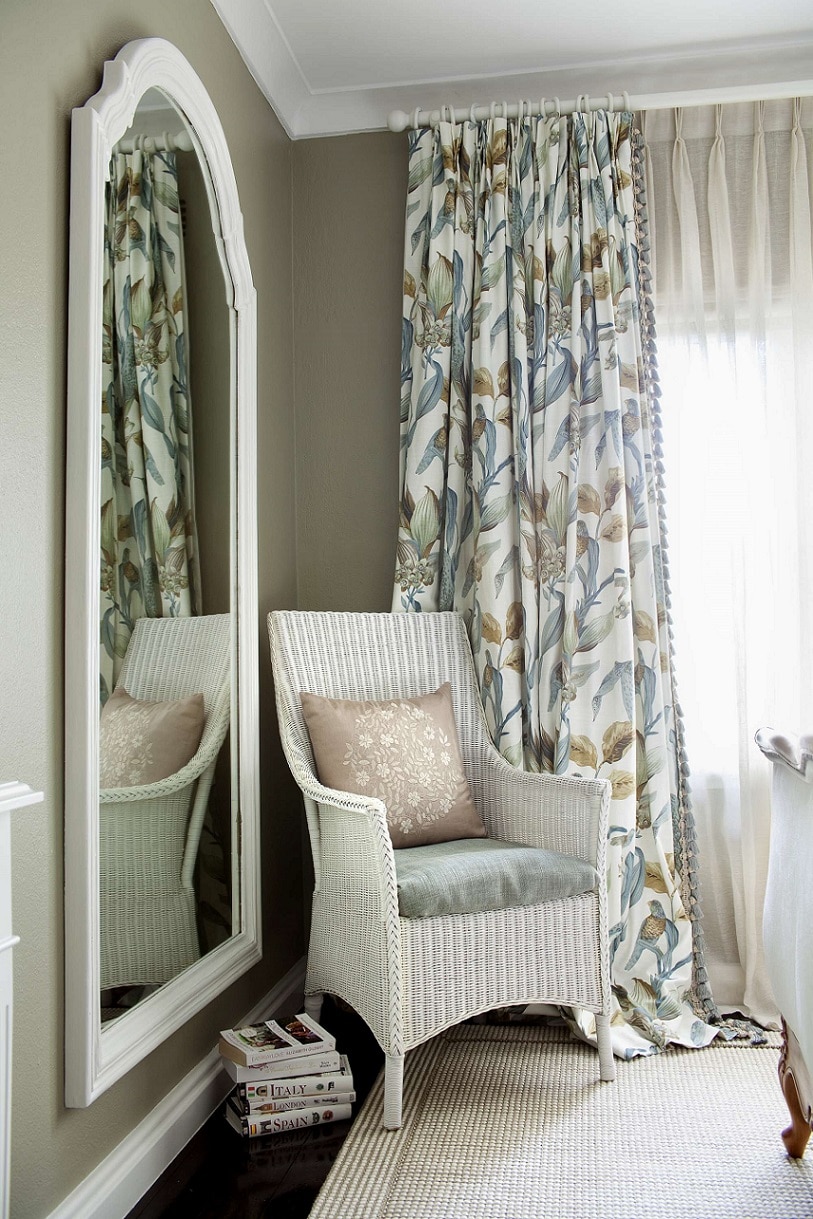 LOVE this custom pattern, detailed trim, and perfect pooling effect in our 1930s Canberra Bungalow.
A Few Notes to Be Aware Of:
If you do get a free measure and quote, you should expect that you aren't getting someone with the eye for the whole room or the colour finesse that a decorator has.
If you are just after boring white roller blinds (oh dear), don't book a decorator. You don't need us for that. You can just run with the free measure and quote.
What do window treatments cost?
Now this is an easier one to answer. On the cost side of things, I am finding that if you count the windows of your home and multiply that number by $2,000 that will give you a budget for quality at entry level (one treatment per window). This number does count on having a few small windows like laundry and kitchen that bring the average down, so be sure to include those.
I recently completed a 4m wide curtain treatment for my neighbour (after rescuing them from the hideous ideas of the free measure and quote people) which came in just under $4k.
Yes, custom curtains and blinds are expensive. I find people who haven't purchased them before can get quite a shock, whilst those who are on their second and third home are quite aware.
 How long should your curtains be?
Puddles, pooling, overlong curtains — whatever you like to call them. I just love them. What does the look do for your interior? Long pooling curtains create an opulent look – it feels abundant and adds softness, which is often required.
However, a bit of understanding is needed.
If the floor is carpet and the curtains will be opened and closed often, the pool will drag along the floor during opening and closing. This will require your manual finessing to fully close the curtain or arrange the pooling.
Don't want pooling?
That's okay. Just remember to keep the length just a hair's breadth from the floor. A too-short curtain looks mean. In my 6 years of decorating, I am yet to do one. This where ready-made curtains often miss the mark. Most are too short or don't have the fullness required, so be wary!
Beautifully FULL curtains add so much beauty, warmth, and elegance to this classic Master Bedroom in Deakin.
Note about Roman Blinds
Soft fold Roman blinds have a tendency to scrunch up and not fold up that neatly. One could argue its part of the look, but if it folds up too much, you could have gaping holes of sunshine between the uneven folds.
I use these rarely in our projects, as I've found that clients consider it too inconvenient to finesse their Roman blinds every time they are opened and closed. Blinds are too high to reach anyway.
Linen drapery with hidden track in the Kingston Bachelor Pad
How high should you mount curtains, blinds or shades?
Most clients and I agree that we don't want to cover up the view outside or prevent sunshine from coming in when the window treatment is open. This means that curtains should be installed to open and "stack" on either side of the window where possible.
The stack of fabric when curtains are open as a rule of thumb is about 20%, but it varies with the different headings (that is your pleats at the top) and fabrics. However, you really need to look at what's going on on the walls and room to make those decisions.
Lastly, don't forget to think about how your window treatments look from outside. If you are going by a house and you can see the hooks and pleats of the back of the curtain through the window, then it is likely they have hung the curtain rod to the architrave at the top of the window. This is easily fixed by installing the rod above the window.
The same goes for Roman blinds. These should be installed above the window not inside the window frame. (Shutters and Venetian blinds offer flexible blade tilting so that is different.)
A combination of timber Venetian blinds (mounted in the architrave) and sheer drapes with slight pooling.
Care & Cleaning
When it comes to cleaning your window treatments, I try to avoid having them cleaned too often. I find that particularly with linen curtains, the cleaners may do a good job of cleaning them, but they don't hang them as well as we installed them in the first place.
Linen curtains require steaming on install and getting them steamed every couple of years will give them a fresh lease on life. They wrinkle fast but steam out and hang beautifully. (Unless, of course, you are going for that really crumpled look.) I have my cleaner vacuum my curtains and blinds with a soft brush attachment on the setting with the lowest suction.
Conclusion
You can see that there is more to window treatments than meets the eye. Yes, they are beautiful. Yes, they will elevate your space faster than nearly any other type of home furnishing. And yes, quality window treatments can last you years and years.
So if you are considering getting treatments that will help you live beautifully at last and bring pride and comfort into your home, I couldn't suggest them more. Work with a professional (like Journey Home) to be sure you are getting the perfect option for your space, needs, and lifestyle. It is VERY worth the investment!
And speaking of, don't forget that you can use our Guide to Budgeting Your Furnishings to estimate your investment in advance. Any questions not on this list? Book a 20-minute chat and I'll do my best to see how we can help.
Yours,
Nadine