I won't sugarcoat it… today's topic is slightly controversial. There are several pitfalls I see when it comes to renovating and decorating a home, and even if they're not pretty, I do feel that it's my responsibility to share them with you. You deserve to live joyfully and proudly in your forever home. If I can help you get there (directly or indirectly), I will!
So, what is one of the most common hurdles homeowners face when designing their homes? It looks like this…
Most likely to thwart your forever home…
In most design projects, you usually have two phases. First, there's the build or renovation phase. Then, there's the decorating phase. Somewhere in between these two, something happens that most of us don't expect… the build phase gets completed and then homeowners just… STOP.
There are a few reasons for this:
They accidentally spend their entire budget on the build or renovation phase.
They are tired after the build, which requires some emotional stamina.
They think decorating is the easy bit that they can do themselves.
The sad reality in these scenarios is that the home rarely gets completed how the homeowners originally imagined it. It doesn't become the forever home they dreamed of. It's more of a somewhere-in-between, two-year-long decorating purgatory.
This breaks my heart because decorating really does make the design. It is NOT something you can skimp on and still expect the same results. For example, take the two photos below.
This first one was my inspiration for an interior design project we did for a Heritage Home in Ainslie.
I fell in love with this living room and the luxurious, classic look of the three gorgeous French doors. It became my inspiration for our client's interior design project, but when the time came to decorate, you can guess what happened… they hit the brakes on their decorating phase.
Here, the three French doors look bare and naked compared to the inspiration photo. Elegant, flowing drapery would have made these windows appear continuous and the room would have felt taller, too. Instead, the doors look segmented and cold. It's missing a welcoming softness and comfort.
Which brings me to my point… These two photos perfectly illustrate the difference between interior design and decorating: decorating completes the space! 
My goal is always to spare our clients from having to stop after the build. You deserve your forever home and not a halfway-there version. So let's talk about a few ways we can avoid this distressing situation altogether…
How to avoid an incomplete design project
To recap, these are the 3 most common reasons a decorating project doesn't get completed…
Spending the entire investment on the build or renovation
Losing motivation after an exhausting build phase
Thinking that decorating is the easy bit that can be done yourself
And some solutions for each…
A. Budget from the beginning
First, it's worth mentioning that "running out" of money has very little to do with someone's financial situation. It's simply that homeowners' intended investment reached its maximum before they could decorate. Even those with the deepest pockets can accidentally invest their whole budget in the design and renovation phase.
The best way to avoid this situation is to budget wisely from the beginning. I myself am planning my decorating before I build so that I'll be sure to get what I want. Okay, and what my husband wants… 😉
If you can factor the cost of decorating into your project budget from the start, you will be far more likely to see the success you wish for. You might choose less expensive taps or tiles if you knew that those expensive ones you had your eye on would put an end to decorating your home. (Or at the very least, you won't get a rude shock later!)
BUT… most people struggle to create a budget without some professional guidance — it's very difficult to gauge a realistic investment if you haven't gone through a home redesign before. This is where we can help.
Here's how we can help:
B. Build and decorate in tandem
Even with a fantastic builder you are very likely to be tired after the build. That's just the nature of it. But wouldn't it be great to have all of your rooms totally kitted out as soon as your builder hands it over? (So you don't have to wait 2 more years?) Yes, it can be done.
Decorating decisions could be made in conjunction with your build decisions for maximum harmonious effect. The builder can then build in any necessary decorating features, such as power for automated curtains and blinds or special joinery for libraries, wall panelling centred around special art pieces and furniture. The list goes on.
Pro Tip: If you think that the builder's in-house designer who helped you pick "colours" during your build can implement decorating — I'm sorry to say it, but no, they usually can't. That's simply not their expertise. You need a professional decorator to do it and do it well. I wish I was overstating things, but I have seen too many sad situations where the clients didn't get what they envisioned and called us years later to remedy the room and breathe some life back into their dreams.
Long story short: Trust a true decorating professional, and do the building and decorating in tandem, and you're far more likely to get a home that you love and are proud of.
And if this sounds like a lot to finance all at once, go back up to Part A… a little strategy in your initial budget will help you manage your investment for a move-in ready forever home that exceeds your expectations. (Cue the housewarming party!)
How we can help: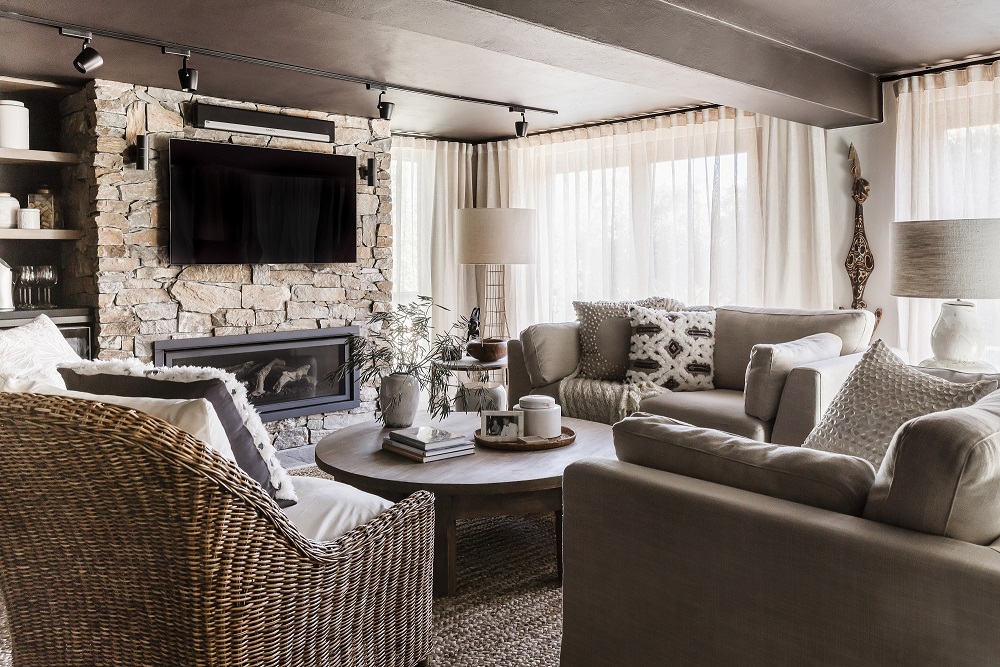 This renovation in Deakin was an in-tandem design-build-decorate project and it turned out magnificently! It was also selected for House and Gardens top 50 rooms. 😉
C. Remember that decorating is a skill… and mistakes are expensive
And lastly, to those who believe they can decorate on their own. Yes, of course you can, but I can promise you that it won't be the same as a professional's work. Again, we know from experience!
"Isn't it just picking out curtains and a sofa?" Definitely not… I have lost count of how many clients have told me stories about trying to decorate themselves… investing in sofas (or rugs) that are either too big or too small… buying one piece at a time over several years… living with furniture that they truly loathe (I am looking at you, puffy recliner).
Those years of aggravation could have instead been spent living in comfort and sophistication, proudly inviting over friends and family.
Size matters. Space planning matters. Materials and style and colour matter. If you thought there were a lot of decisions to be made when building, there can be just as many with decorating. It's not nearly as easy as you think (and decorating mistakes can also be expensive).
I think we have all lived with at least one piece of furniture we found unsatisfactory, even irksome, day after day. That's all well and good for your first home (as you learn your tastes and preferences), but if you're investing in your forever home… don't you deserve better? I certainly think so.
So please, take the stress off yourself to do it all alone. (And don't let your husband pressure you to become a professional decorator overnight!! Yes, I've seen that, too.) Instead, let a professional decorator guide you. It will be  WORTH getting a forever home that you will truly love to live beautifully in.
How we can help:
Coming Soon…
Our Forever Home Decorating Course Membership! We'll guide you step by step to creating the forever home of your dreams from concept to completion, right alongside us and our beautiful community of house-proud women like you! Official launch coming soon…
Before I wrap this post up, I just want to share some encouragement. Even though many unhappy people have sought out our services over the last decade, we have always seen them to the other side – the side where they have the home of their dreams and an environment in which to live well, entertain proudly, and feel truly at home.
Helping you take pride in your home is my passion and life's work, so if you have questions, I hope you will reach out and ask. Or book a 15-minute discovery call with me.
With a plan and a guide by your side, your forever home is more than possible — it's closer than you think. Why wait?
Xoxo,
Nadine