"I don't know if this is too small for you, BUT I just want help with X…"
I often get calls from potential clients where the conversation starts with these exact words. I also suspect there are even more people out there thinking the same thing and not calling, because they assume I wouldn't help them with Task X only.
In the past, this was mostly true. If you look at the projects in our portfolio, these were completely custom full-room decorating projects, not rooms that only needed a few bits and bobs. Full-room custom decorating is where I shine, because I have the most control over ensuring a fabulous outcome and we do all of the work to get the job done, hence we can take photos.
Our Custom Decorating Service is still perfect for clients who want to rip off the bandaid and get their home completed in the fastest way with guaranteed results, whilst also protecting their own time. (Good things still take time, but at least they don't drag on forever!)
However, after hearing "I just need X" from so many classic-loving homeowners over the years, I've had to ask myself the difficult question… Should I only take on projects that require a full makeover, or should I meet you where you are at?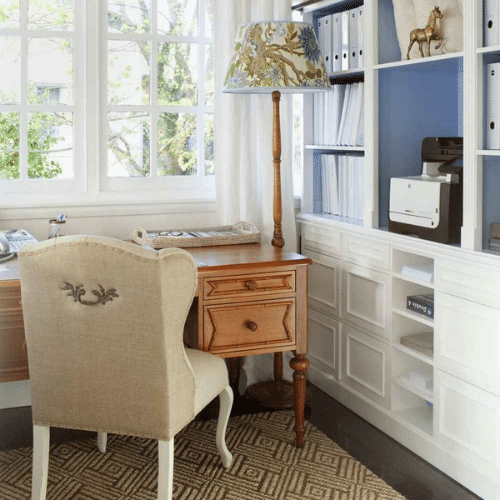 Are you an action-taker who dreams of being house-proud?
Here is what I have realised: There are many people who want to enjoy the process of choosing their dream home for themselves. In fact, for some, it is their dream to do so, and who am I to stand in the way of that?
When I started Journey Home more than a decade ago, I knew that I wanted to leave a lasting impact on Canberra and the ACT. If you have looked around here lately, then you know that overly modern and manufactured design is the standard. I simply can't accept that. I won't.
I believe beauty lies in timeless, classic style — natural fabrics and materials, curves and character and craftsmanship, comfort in layers and sophistication.
If you're reading this, I know you share our great taste, and if you want to create your forever home yourself, I applaud you. After all, I am doing the very same thing!
I also know that at various stages you may get stuck with overwhelm and need help with this or that. There are so many facets to renovating and decorating, and it is not usually until you are in the thick of it that you may realise it's time to put your hand up for some help. And I've realised, I want to help. Here's how…
Meet the New "Choose Your Own Adventure" Decorating Service
If you're looking to make smart purchases (and avoid expensive mistakes), and you only need parts of your room decorated, the Choose Your Adventure service gives you help with just the bits you need.
What do Classic decor and furnishings really cost? Get our free expert guide!
Realistically plan for your next decorating project with our free guide to home furnishings budgeting worksheet!
How does it work?
Use our Choose Your Own Adventure form to select the bits you need and to create a quote.
Submit your quote, and have a chat with our decorator, ask questions, and share your requirements. They will give you a suggested order to do things.
Book the service online and select your first meeting time.
Meet your designer either in person or online to discuss your project and share your space.
We return to our studio and find the perfect furnishings for you, according to your booking.
We present our selections and designs to you, which include purchase links.
You're ready to action your project!
Yes, it is really that simple. And yes, you will receive a fully actionable plan that you can carry out at your own pace. You won't have to second-guess your decisions. You won't accidentally purchase high-ticket items that don't look or fit well in your space. You won't have to worry about overwhelm or indecision keeping your project at a standstill.
You'll have a clear path to your forever home, a solid plan you can trust, and your own two hands finally excited again to make it all happen.
Ready to create your own custom quote?
I can't wait for you to use our quote builder! We put quite a lot of time and effort into making it simple yet comprehensive, and I think you'll find it quite fun to add on the bits you need and feel excited about… Let the adventure begin!
Questions? As always, I am happy to make myself available to you. Book a 15-minute call with me here and let's chat.
Cheers,
Nadine