If you are thinking of downsizing to an apartment, then buyer beware! Yes, I know that sounds a touch dramatic, but I am noticing several trends in developer apartments that are making it difficult for style-savvy downsizers to create their classic forever home.
My hope with sharing these obstacles is not to point a finger at any guilty party. My goal is to help you make the best decision when searching for your new space, and to help you understand your options if you already have an apartment with these meddlesome features.
Without further ado, here are the top 3 most surprising design obstacles I see in new apartments throughout the ACT…
Obstacle #1. Weirdo Joinery Taking Up Your Precious Space
What is "weirdo joinery"? I thought you'd never ask. "Weirdo joinery" (my term for it) is ultra modern joinery that fills up the walls of an apartment. It leaves no room for furniture pieces and little opportunity to balance old with new. In other words, no room for you, my friend.
Here's what it looks like: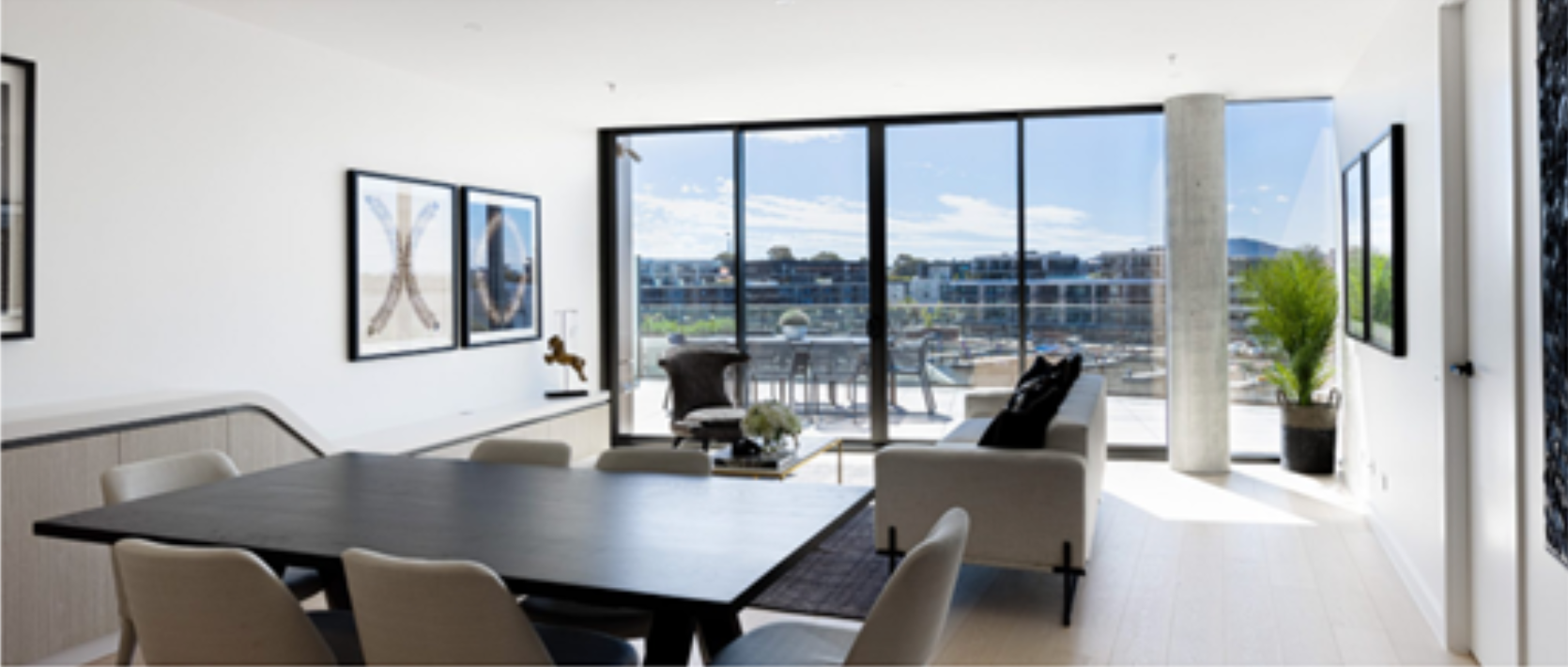 Source removed for anonymity
See how this ultra modern joinery hugs the wall on the left? We can all agree more storage is always a good thing, and it's fashionable by these architects to put low joinery in. But… good luck bending over and lifting heaving things out of those! Hopefully, you'll have the kids around to do it at Christmas. (Put those millennials to work!)
With joinery like this imposed upon you, you have two potential solutions:
Option 1? Learn to love it and live with it. This may mean saying goodbye to your heirloom or sentimental side board, and you can forget about trying to tie in that Hamptons-style and contemporary combo you've dreamed of. The two just don't work together, not if you want to be authentic and cohesive about it anyway.
Option 2? You can commit to spending money to remove it. Now, that's not really a great thing to have to do after spending big dollars on a brand new apartment, but it's your choice, of course.
My suggestion? First, work on your furniture arrangement plan — and make sure to use accurate measurements so you know what will fit. Then decide if this is the apartment for you to purchase and whether to keep the joinery.
For what it's worth, creating your furniture layout isn't just important when downsizing — it is always the first and most important step on any decorating journey. Creating a furniture layout helps you decide what to keep or part with, it prevents you from making expensive regrettable purchases, and it ensures an outcome that fits your lifestyle.
Before vs. After: Our Kingston Bachelor Pad client approached us on the doorstep of his retirement to create a classic, luxurious space that would cater to his every need… you better believe we started with a furniture plan!
Obstacle #2. The TV in Your Face
When developers style apartments for sale, they often hang art where the TV would go. It's understandable. If you were touring the space, I guarantee you would find it far more calming to see soothing art in that spot.
However, what most downsizing homeowners don't think about is that when you move in and install a real TV, the placement is less than ideal. That large, black rectangle will draw the eye and be the first thing you or anyone sees in your home!
My suggestion? Fortunately, this is the easiest obstacle to solve, whether you already have an apartment like this or not. I suggest solving this with a Samsung Frame TV or equivalent, which looks like art when it's off! That way, you can replicate the tasteful look without always having a big eyesore on your walls.
Isn't this incredible? It looks like framed art! (Image credit: Samsung)
Top 3 Thing To Know When Creating a Furniture Layout For Function & Beauty
Download your Guide on the Top 3 Things You Need To Know When Creating a Furniture Layout Around The Home For Function & Beauty
Obstacle #3. Unintentionally (Maybe) Misleading Developer Plans
The third and final obstacle I see repeatedly in developer apartments… floor plans that are misleading scale. I'm not sure if it's ignorance, wishful thinking or intentional, but it is something you should absolutely be aware of if you're planning on downsizing to this sort of space. Here's what I mean:
This developer's floor plan was provided to our clients to show the full layout of the apartment, including the potential for furniture placement. At a glance, you're probably thinking, "Wow, this apartment is huge! Look at all of that space. There is so much room for furniture!". Not quite.
In this case — and in most cases — the furniture is "small scale", meaning that it has been shrunk down to a smaller-than-life size to appear as if it all comfortably fits. Believe me, it doesn't!
Time to get the red pen out…
See where I've written "tight", "too narrow for dining table", "no room for side board", and "wall of weirdo joinery"? And that's less than half of the space. The other rooms' furnishings were not drawn to scale either.
In this case, the strangely cramped apartment's issues were exacerbated by our client's excess furniture from their original family home, which is common for downsizing but certainly makes the situation more difficult overall.
My Suggestion?
If you're navigating this scenario on your own, I highly recommend that you take the extra time to measure the space and measure your own furnishings. Like Obstacle #1, creating a to-scale furniture layout before you purchase the apartment or move in will make a huge difference in how you enjoy your new home for the many years to come.
Another option is to not navigate it on your own. For guaranteed success, bring us in to evaluate the space in relationship to your furniture BEFORE you buy. Yes, I know that hiring us is an expense (though a very small one in comparison to your new apartment), but it is far, far easier to address these issues and make a plan you love before you have signed the dotted line.
In fact, maybe you're deciding between two apartments and our furniture plan will be the tie-breaker that shows you which one is truly your dream home? Yes, it's happened.
Your best option is to go with our Choose Your Own Adventure Service and include the layout option. You can also check the box for "Advice on what to keep". We'll inventory your items, help you make decisions you're happy with long-term, and look for additional pieces that bring the look, feel, and functionality you crave to life.
Last but not least, remember that downsizing isn't just about getting a smaller space — it's about creating a new home that will support everything you imagine for your life: a fresh start, comfort, luxury, function, easy entertaining, and living beautifully at last.
P.s. Don't forget to check out our free resource, Top 3 Things To Know When Creating a Furniture Layout For Function & Beauty. It will help you start finding and creating the home of your dreams… until you're ready for us, that is.
Cheers,
Nadine