It was back in 2010 that I made the trip to the Hamptons and returned to create Hamptons style interior design and furniture lines for Australians. Over a decade later, that mission has evolved to include creating classic homes for our design and decorating clients, and I'm happy to say that Hamptons-inspired elements are still a strong undercurrent in much of what we do.
Now, as I start planning and designing our own new studio in Manuka Village, I find myself looking back at where it all began…. in another country, on another coast.
To celebrate our origins (and since it looks like I won't be flying Stateside again any time soon), I thought we could take a little trip down Memory Lane. Where did I go? What did I see? And most importantly…
Which Hamptons style interior design elements do I hope to continue bringing into Interior design in Canberra? Come see…
A Stay at the Montauk Yacht Club
My trip started with a stay at the Montauk Yacht Club. It's right at the end of the Hamptons. I went in late winter, so accommodation on-the-fly was surprisingly available and affordable. (I doubt this is true in the summer months.) You also won't find a huge number of hotels, as most summer vacationers rent or stay in their second home. I reserved a simple yet beautifully furnished room with classic Hamptons style interior design.
My room had these lovely navy blue and white striped curtains, with the perfect amount of fullness, hanging in gentle folds even when closed. The straight lines of the campaign style furniture (right) fit really well with the nautical theme. Also, keep in mind that these photos are over 10 years old!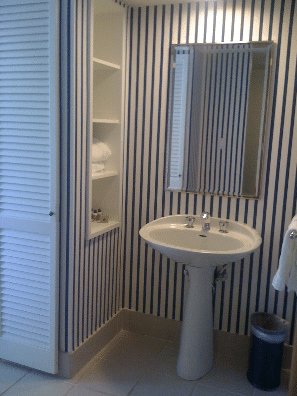 The bathroom was quite charming. This thin and crisp navy and white striped wallpaper feels just as classic today as it did back then. Stripes aren't for everyone, of course, but I do wish more Australians were game to put wallpaper in bathrooms — it can transform the look and feel of a small space.
The scale of the great room was spectacular, and the ceiling detail — from the woodwork to the chandelier — was jaw-dropping. I know it is difficult to understand the scale from a photo, but your head would probably reach right about mantel height. Of course, I walked right into this room and my designer mind immediately furnished the space with textured neutrals, a spacious area rug, and several chairs with traditional Hamptons character. Can you see it, too?
In the sitting area, I liked the theme and colours, but I thought the rug could be better and, of course, bigger. We never want our furnishings to stray off the rug like that. Almost like it's making a run for it. But the crisp blue and white stripe, the curious yet classic end table and a coral lamp, and the cushion welting all speak to Hamptons style interior design.
Now that you've seen an array of interiors, let's talk about exteriors…
Touring the Hamptons Neighbourhoods
Between you and me, I did find the actual Something's Gotta Give house that really was the dominant driver behind the Hamptons style. In my opinion. After much digging I found it and drove by it, but alas, the amazing Hamptons Homes we see on Pinterest are typically surrounded by enormous hedges. (How dare they want privacy?) So don't expect to see much. Most likely, they knew I was on my way to sticky beak…
But I promised you a tour of the Hamptons, or at least some Hamptons eye candy, so here are a few amazing Hamptons mansions that I've collected over the years from magazines and Pinterest.
This one has had time for the shingles to patina to that Perfect Hamptons Grey. Spot on.
This one has an almost English cottage feel to it with the tapered roofs and Victorian style chimneys.
This home sits in perfect symmetry with a two-tone look: a shingled second floor with brick chimneys and a porch-like main floor, where I am envisioning sunrooms filled with crisp linen sofas and sprawling daybeds.
When you get closer to the small towns in the Hamptons, you'll be able to get a little closer to the… let's call them the "real homes" of the Hamptons. These are the more middle-class homes that aren't on huge estates surrounded by hedges, and their architectural style  is more early New England. At least I could see them from the street!
That said, I wouldn't really consider it middle-class to be replicating these in Australia. Given the niche market here, it would take a lot of money and careful detailing to create these homes around the ACT. But it can be done.
This one stopped me in my tracks — or car, I should say. Can you believe this was a new build? It was actually going to become a shop, and it was nearly finished. The builder was kind enough to let me inside to sticky beak some more.
Spacious and beautiful. I just love these classic pillars and the stunning bow windows. I am so curious to know what this store looks like now…
Inside a Hamptons Style Interior Design & Furniture Shop
Speaking of stores, you know I couldn't resist popping into a few furniture stores while in town.
We're looking at this photo over a decade later – and these pieces haven't dated at all! That is the beauty of classic design. Yes, it can be personalised to you, but its foundation in timeless character keeps it feeling fresh and sophisticated from one era to the next.
I know the quality of this photo isn't blog-worthy, but I really loved the base of this table and later replicated it in an Australian furniture design. Which brings me to…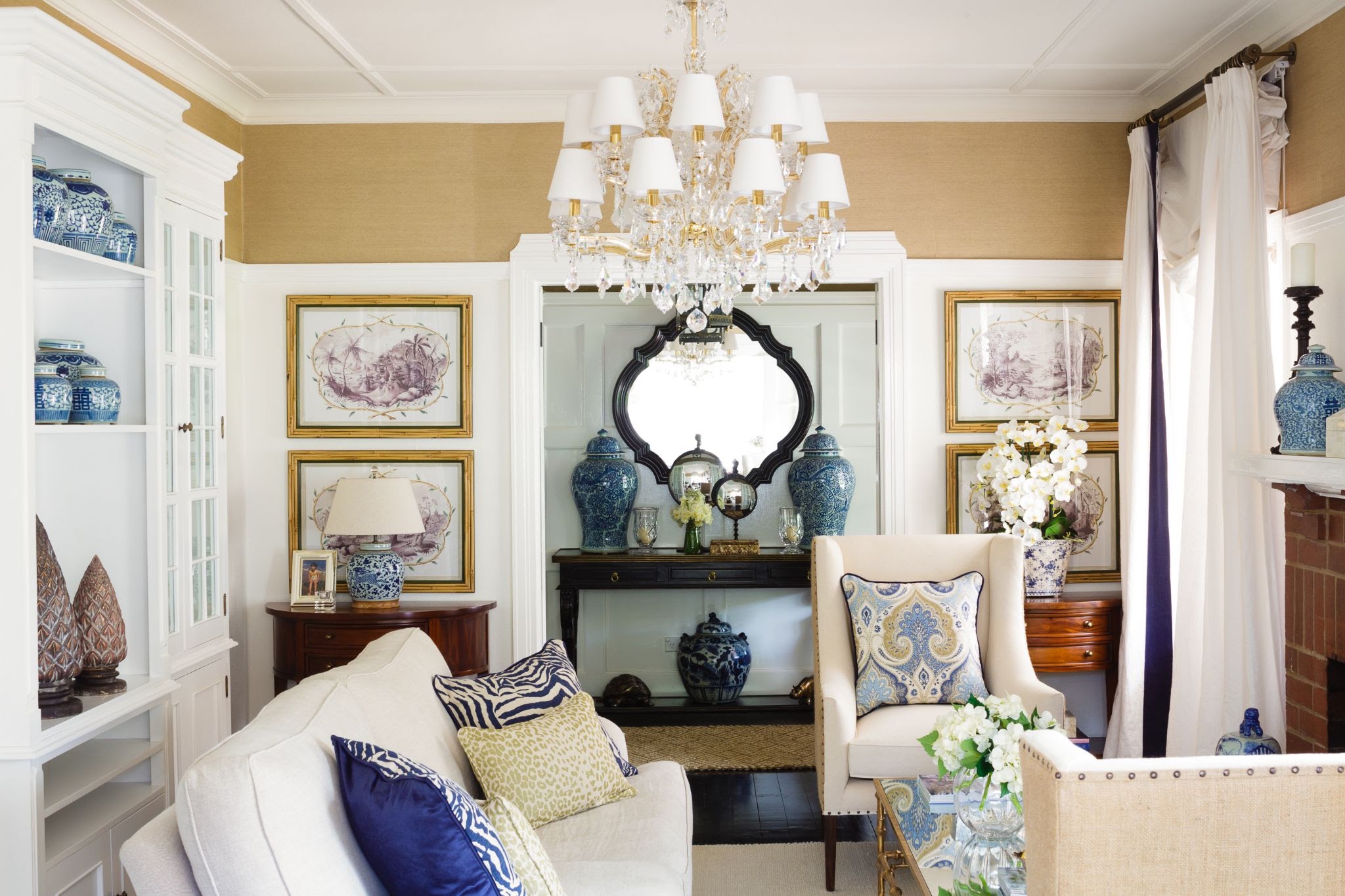 Well, now you know about my humble beginnings at the forefront of Hamptons style interior design in Australia. I created ranges of Hamptons style furniture for the trade over 16 years ago, and it has informed my career ever since.  Not just for me, but also for the many Australians who are looking for classic designs to help them feel beautiful in their homes.
This is a cause that still motivates me today in Canberra, so if you feel inspired at all by what I've shared, I hope you'll keep in touch. Reach out if you need design advice or have a project in mind. Stop by our new studio in Manuka Village (when it opens). Subscribe to our monthly newsletter to get my favourite paint colours for Hamptons homes (Scroll to bottom).
As our name implies, your home is a journey. Stick with us, and we will help you make the most of it.
Yours,
Nadine