9 Tips for Decorating Your Home BEFORE Retirement (So You Can Enjoy It!)
Imagine a home that brings you ease, sophistication, and beautiful living from the moment your retirement begins. Or, maybe you enjoy working on your home and would love for your retirement's initial years to include decorating it yourself.
You get to choose! But whether you need binoculars to see your retirement or you're knocking at its front door, now is the best time to start planning your forever home. 
Today, I have 9 tips to help you do just that. The first few tips start with creating a plan for your space, while the rest will swan dive into decorating a home that brings you lasting joy.
Are you with me? Let's go!
Tip 1. Greet the elephant in the room
First things first — there's an elephant in this room. Can you see her? Nope, she's not hiding in the corner. She's seated right in the centre of the room and goes by the name of Aging. 
I know, I don't know want to shake her hand either, but it's difficult to avoid talking about aging when discussing retirement and your forever home. 
If you're investing in your forever home, it should support you far down the road
Knowing the function of your home determines its design!
Preparing our lives to be easier in 10-30 years also makes our lives easier now, so I say why not?
Convinced it's important? Great. Let's move on to Tip 2…
Tip 2. Decide what your retirement will look like
Okay, we met the elephant, and she's not so bad after all. Your next step is to decide what your retirement will look like. Here are some questions to get you started:
Are you downsizing to a cosier space or retiring in the home you have now? (That's a big decision and our Roadmap Home service can help you put number and a strategy together!)
Will you be traveling often and needing a house that mostly maintains itself? (E.g. automated irrigation system, faux plants, etc.) 
Could be hosting grandchildren and therefore needing sturdy, bullet-proof (joking) materials?
Will you be caring for your elderly parents?
Just for fun, mine includes renovating until 50, then enjoying my timeless home and garden with minimal paint updates to keep it fresh. At 75, I'll "Downsize with Style" to a sunny apartment with a lift and friendly services, where I'll live for 20 years or until someone forces me into a home. Between you and me, I won't be going quietly. 😉
What will your retirement look like? Close your eyes, picture that future, and write it down.
Tip 3: Make a plan early (at least 5 years out, if you can!)
There are many good reasons to make a plan early. You can save up for or finance your project while you're still earning (instead of foregoing that dream trip to Paris later) and you have the time to carry out your plan with less stress.
I suggest following this general order…
Speak to designers, builders and decorators so you know what your projects will cost and your best order of operations (our Roadmap Home service is perfect for this)
Create your plan for moving forward. Do you need a year or two to save? Will you buy your downsizing apartment now and rent it out? Do you prefer to start now, or would you enjoy saving decorating for retirement?
The following tips will also help you refine your answers to these questions.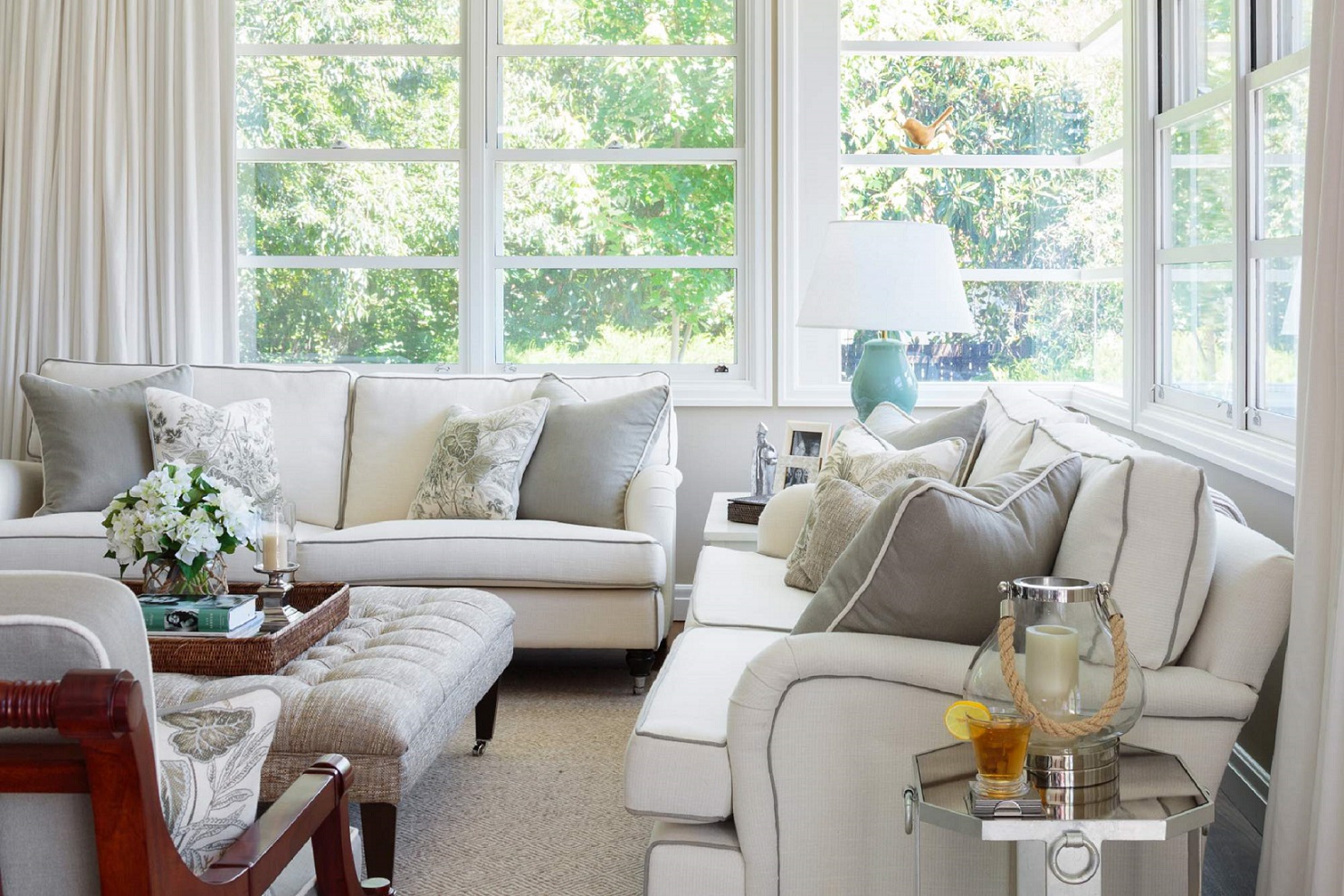 Tip 4: Sort out your renovations & landscaping first
Renovations make one heck of a mess, so if you have any on your to-do list, tackle them before any painting or decorating. You'll want to begin with wet areas (bathrooms, kitchens), then flooring, and finally your painting, window treatments and furnishings.   
Pro Tip: Group painting, window treatments, and furnishings together on a room-by-room basis for a more holistic look.
Lastly, landscape and plant trees early (they need time to grow) and irrigate — it's worth every penny!
Tip 5: Select furnishings that support your desired lifestyle
Remember in Tip 2 when I suggested picturing your retirement? Now, we're going to take that picture and go deeper into the furnishings that will support and create that beautiful lifestyle. 
For example, if grandchildren be visiting now or in the future (they pop up quickly!), you may need child-proof window coverings and furnishings. If you'll be hosting gatherings of your friends, you need social spaces with intimate, comfortable seating. You get the idea.
Write down what type of furnishings you might need (or enlist our help for expert advise) and then move to Tip 6…
How to Select Design Materials with Confidence
Wondering what your renovation or build will require? Download our worksheet for the 10 steps you'll need to design the home you've always imagined!
Tip 6: Declutter early, often, and wisely
Decluttering gets harder as we get older, and not just because our clarity slows and our sentimentality grows — we simply have more stuff! Your best bet is to start early (now), declutter often (such as around the holidays, when items tend to accumulate), and keep your goals and desired aesthetic in mind. 
Some strategies?
Stop Press: Before you send all your books and DVDs to Lifeline, consider whether wall units are going to be part of your decorating scheme… or you might end up right back at Lifeline! Yep, I've seen it happen.
Gradually give pieces to your children over the next few years
Donate your furniture or sell it online
Never feel guilty about giving away pieces that no longer serve you
Be very selective about new items that you bring into your home (do you really need that gadget?)
And while you're at it…
Tip 7: Consider your furnishings' ease of use
Thanks to our cheerful elephant in the room, tasks that seem easy now may end up becoming much more difficult in the future. This applies to getting out of chairs, making the bed, navigating furniture, etc. — and is worth thinking about now, while we're making decisions for our forever homes!
When you're deciding what to keep or what to bring into your home, consider functionality… 
Are your chairs and sofas easy to get out of? Do your feet reach the floor?
Does your bed frame pose a struggle when trying to wrangle your fitted sheet into the corner?
What other areas of your home slightly annoy you, though you've learned to ignore or overlook them?
Tip 8: Plan for motorised window furnishings
Okay, same line of thought as Tip 7, but worth mentioning on its own: motorised window treatments. 
I just installed motorised curtains for a client who couldn't lift her arm, and it made me realise that this will be an essential in my own forever home — it's a simple addition with important long term benefits.
Pro Tip: It is easier to motorise your treatments if that power sources are already in all the right places. You'll want to mention this to your builder/construction team/designer when you're renovating, so they can make the necessary adjustments. If you wait until the decorating phase, it could be impossible or more costly to implement.
Tip 9: Get financial advice if you haven't yet
Seems like an odd tip from a decorator, but I do have an accounting degree and this is real life we're talking about here!
If you've never had advice from a financial planner, I suggest doing it sooner rather than later. It will give you the peace of mind that comes from a solid plan, but you'll have more time and mental space to achieve your goals for your forever home.
After all, you deserve to live in beauty and security. Don't you think?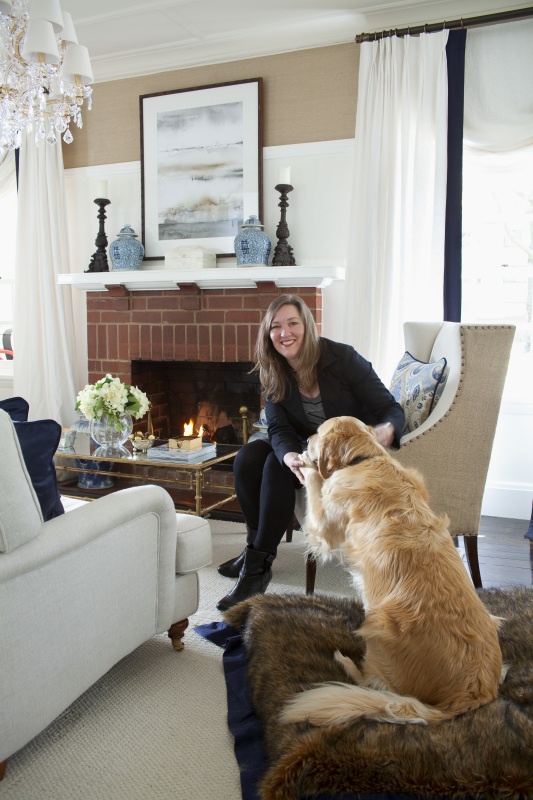 When you look at the big picture all at once, I know it can seem like a lot. But I want to assure you that you're not alone and you don't have to be in a hurry — this is your forever home we're talking about. 
It's more important to take your time, do things right from the start, and create a home that is perfect for you and your life.
And, if you really don't want to wait or manage all those details yourself, rest assured that our All Stages Custom Decorating can take the reins in quickly and efficiently bringing your vision to life. Whatever your journey needs, we are here for you.
To your & your most beautiful living,