Every year winter comes around again (as it does), I'll pile some firewood into my 1930s open fireplace for Anzac Day, and I'll start to sprinkle in just a few design elements into my living spaces to embrace the cosiness of the season.
Truthfully, embracing winter in my home doesn't require that much extra work. I love that the elements of classic design already lend themselves perfectly to the cosiness we seek during cold winters. While modernist design requires some effort to make those clean lines and stark surfaces inviting, classic design has cosiness and comfort built right in!
So, to help you create a home that blissfully cocoons you and feels sumptuously elegant, I want to share 5 inherently cosy features of classic design, along with some tips for bringing them into your home.
Grab your notebook and a pen, and let's all get cosy…
1. Layer Textiles, like Pillows and Wooly Throws
Layering is key to classic design and somewhat missing from minimalism. Layered fabrics, furniture, textures, and rich neutrals are an inherent feature of classic design and cosy spaces.
How can you bring layering into your home? Cosy on into multiple cushions on the sofa. Snuggle into a wooly throw. If you have a leather sofa (which cushions will tend to slip off of), why not adopt two wooly throws in winter? Layer in those textures and then sidle on in!
Layers upon layers!
2. Embrace Cosy Furnishings
There are several types of furnishings that lend themselves perfectly to both classic design and a cosy interior. Here are a few…
An Area Rug
Rugs are an elegant and essential part of any classic interior, but it is easy to underestimate the needed dimensions. (In fact, too-small rugs is one of the 3 most common design mistakes in Canberra.) A properly sized rug will envelop the furniture, cocooning it just like you want to be cocooned. This is both classic and cosy — all year long!
Ottoman
Ottomans are highly versatile, spatially economical, and beautifully classic. You can pull up an ottoman whilst you stack the firewood and stoke the fire. Use them as cosy footstools, seating for the kids while playing video games (if that is what they still call them), or extra seating when there is a big group.
Our client loved these stylish ottomans and cosy throws.
Swivel Chairs
While you may or may not be running out to the shops for new chairs this winter, if you are considering it, swivel chairs are perfect for cosy, classic interiors. Depending on the situation, they allow sitters to face the conversation, the fire, or the TV. 
Wingback chairs
The wingback chair was traditionally designed to stop drafts from behind whilst you face the fire. They are still a great option for rooms with fireplaces today, not to mention that they are so cocooning! However, this type of chair is fairly tall so be mindful of how they may block a line of sight. I love to use them as an anchor piece.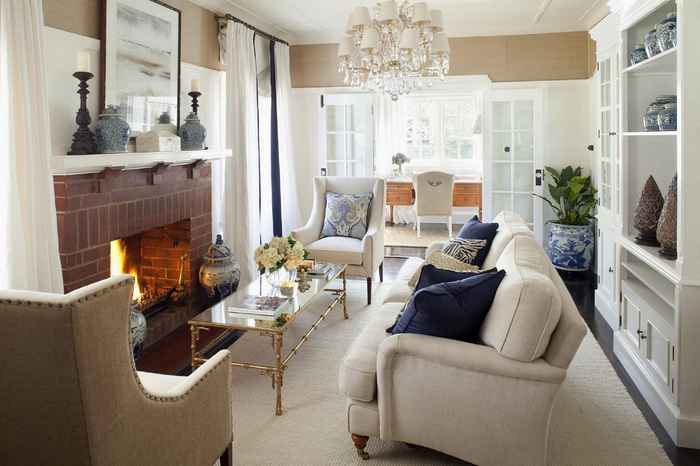 I love the wingback chairs in my living room. (There's a great rug in here, too.)
3. Create a Cosy Furniture Layout
Each piece of furniture contributes to cosiness and so too does the overall layout. Reality is that winter is the time we hibernate, usually in front of the telly. (After all, aren't we TV and Netflix people these days?) But I love a good fire, too, so why not have both!
A furniture layout that lets you reach your cup of hot cocoa from the sofa, lets you bask in the glow of the fireplace, and enjoy the TV… well, that's just my dream layout! (I've even mapped it out for you below so you can adopt it if you'd like…)
So, what do you need from your furniture layout? Do you like to sit long with your legs out in front or curl up in a ball? My husband is a straight-sitter whilst I am legs-out-in-front type, so I know that I need a sofa running perpendicular to the TV or a chaise.
It's a furniture layout that accommodates two axis or focal points to enjoy the TV and the fireplace.
When you're creating your own furniture layout, you should also keep in mind:
Symmetry and classic elegance go hand in hand, so try to create balance
Furniture layouts that create cosiness are also those that create intimacy (like grouped seating), so conversations remain personal, without shouting or echoing.
You can download our helpful guide here: The Top 3 Things You Need to Know when Creating a Furniture Layout.
Top 3 Thing To Know When Creating a Furniture Layout For Function & Beauty
Download your Guide on the Top 3 Things You Need To Know When Creating a Furniture Layout Around The Home For Function & Beauty
4. Warm Up Your Space with Lighting
If you don't have a fireplace (and even if you do) bulbs that create soft, yellow light (around 2700 kelvins) will instantly add a feeling of visual warmth to your space. You could use these bulbs in lamp lighting, with a table lamp and a floor lamp. When you're creating your furniture layout, just remember to make sure these lamps are placed with access to power points! Some candles would create a lovely ambiance too.
5. A Cosy Touch of the Outdoors
Have I ever told you that I am always chasing down the tree trimmers in my area? When I spy them chopping branches with white bark, I simply can't resist! "Please, sir, can I have some white branches to match my sofa?"
I know that sounds ridiculous, but it brings a smile to my heart when I see those branches displayed in my living room, so why not? If stalking your local landscapers doesn't sound like your cup of tea, that's okay. Normal chopped firewood or tree clippings from your own backyard will look perfectly cosy, too.
Display them on your mantle, coffee table, or windowsill. Plop them into a vase. You could even tie some clippings with twine and hang them from the door handle of built-in cabinetry. (Bonus points if your "touch of the outdoors" brings in the scent of the outdoors!)
I'm sure there are more tips I could share (like surrounding yourself with family photos for emotional cosiness), but these 5 should give you a great start.
It's also worth mentioning that your home's furniture layout is the foundation of the space, so getting it right (for your lifestyle, needs, and style desires) will make everything else easier. If you haven't gotten your hands on our latest resource yet, it's a good one!
Download it here: The Top 3 Things You Need to Know when Creating a Furniture Layout
Until next time, stay cosy!
Nadine